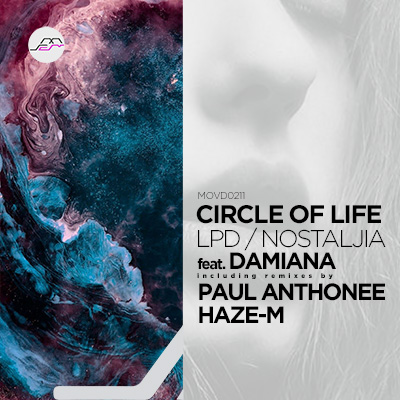 Artist: Circle Of Life
Title: LPD / Nostalgija (ft Damiana)
Remixers: Paul Anthonee, Haze-M
Release Date: 7 December 2020
Supported by: John 00 Fleming, Max Graham, D-FORMATION, Steve Parry DJ, MATAN CASPI, Paul Thomas, Citizen Kain, Miss Monique, Binaryh, Lonya, Juan Pablo Torrez, Alex Preda, Paul Angelo & Don Argento, Nicolas Rada, Emi Galvan, DJ Zombi, MOSHIC, Wurtz, Voices Of Valley, ao      
The latest release from Tash's Movement Recordings welcomes Circle of Life back for a new EP. The Serbian artist made his label debut just over a year ago with the well received 'Black Light'. A subsequent remix for Trapped In Time along with a contribution to the label's popular 'Technical Progress, Vol. 10' collection followed shortly thereafter. Also finding a home on Beat Boutique, BeatFreak Recordings, Suara and Sudbeat Music, Circle of Life now returns to Movement with 'Lpd' alongside remixes from Paul Anthonee and Haze-M.
Beginning with the title track you get an immediate feel for Circle of Life's unique hybrid of progressive house and techno. Punchy beats and muscular basslines set the piece in motion as ominous effects and sinister arps flow through the framework. Rough and rumbling in all the right ways, the first act smoothly segues into a tense break, where timely modulation and a rush of noise sparks a commanding drop and rousing finale. The companion piece 'Nostalgija' finds Circle of Life diversifying his portfolio further in collaboration with 'Damiana'. It proves to be a worthy complement to its predecessor with a wondrous array of dark undertones and astral synth stylings. Ghostly vocal wails sit gently under the surface as the piece builds through waves of arpeggiated rhythms and rolling percussion. Tense harmonics lead into the second of two breaks, eventually melting down to a dramatic rumble as the beats drop for a driving final movement.
The first interpretation of 'Lpd' is provided by label artist Paul Anthonee who returns for his eighth appearance. The Cyprus based artist last appeared on the Greek imprint in August of this year with a well received remix of Kostakis 'Ithaca'. Also finding a home on Beatfreak Recordings, Parquet Recordings, Steyoyoke and Suara, Paul now returns to Movement Recordings with a powerful interpretation of 'Lpd'. Always a creative remixer, Paul adds a symphonic feel to the piece with striking synth staccatos and growling effects. Rife with dance floor dynamics, a perfectly executed break sees tension and drama rise, building copious amounts of energy for a commanding drop and exhilarating finale.
Rounding out the release and providing the second and final interpretation of 'Lpd' is Haze-M who makes his label debut. Highly regarded in the world of melodic house and techno, the Tunisian artist has showcased his music on Beatfreak Recordings, Eleatics Records, Stil Vor Talent and Timeless Moment. Now fresh off a remix for Artessa Music, Haze-M debuts on Movement Recordings with a rousing rendition of 'Lpd'. Drawing on the sensibilities of the original Haze-M leans closer to peak time territory, with a reworked groove and rolling rhythmic core. Kaleidoscopic arps bounce with elastic-like effects, sitting atop a layer of rumbling bass notes and perfectly setting up a break that is both illuminating and tense, before ultimately melting down to a buoyant finale. A powerful take from Haze-M, capping off another excellent offering from Tash's Movement Recordings.