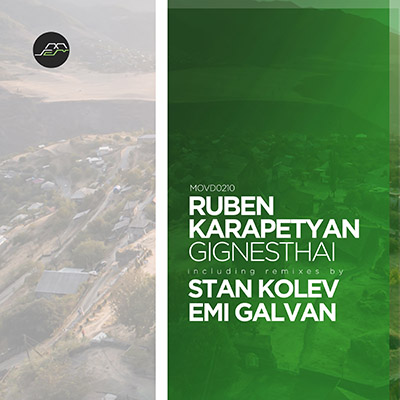 Artist: Ruben Karatepyan
Title: Gignesthai
Remixers: Stan Kolev, Emi Galvan
Release Date: 23 November 2020
Supported by: Nick Warren, ANIMAL PICNIC, MOSHIC, Lonya, ZIGER, Sezer Uysal, Marcelo Vasami, DJ Zombi, Kaldera, Nicolas Rada, Fernando Olaya, Ian Dillon, Sonic Union, Nick Varon, Paul Deep, Amber Long, DJ Ruby, Graham Gold, ao
The latest release from Tash's Movement Recordings welcomes Ruben Karapetyan to the label for his debut single. Born in Armenia and now based in California, Ruben has a long history in electronic music. Best known for his DJ Darky alias, the Hollywood resident shared the stage with famous artists like Sasha & Digweed, Sven Vath and Orbital as part of lineups at legendary events such as Electric Daisy Carnival (EDC) , Together as One (biggest NY party in America ), AgeHa in Tokyo Japan, VNVNC Concert Hall in St. Petersburg and Pravda in Moscow, Russia. Operating under a variety of production monikers, Ruben has remixed The Cure's 'Forest', while his original productions were routinely championed by the underground's top tastemakers. Now following a ten-year hiatus Ruben returns to electronic music via Movement Recordings with 'Gignesthai', alongside remixes from Stan Kolev and Emi Galvin. 
Beginning with the Original Mix, Ruben draws on the peak time dynamics which shaped the early part of his career. It's tough, driving groove commands a big presence, adorned with detailed percussion, rolling rhythms and soulful overlays. Cross cultural motifs advance the narrative across the first act, before coming to full fruition during the main break. Haunting and emotive in equal measure, the centerpiece melts down to a gentle purr, before muted beats rise towards a classy drop and chugging finale. 
The first interpretation of 'Gignesthai' is provided by Stan Kolev who returns to the label for his second appearance. The Bulgarian artist made his Movement Recordings debut in June of 2018 with a remix of 'The Swarm' by Marc DePulse. A staple in Beatport's progressive house charts, Stan is one of the most prolific and consistent artists in the genre's history. Now in a year highlighted by releases for Sudbeat Music, UV and his own Outta Limits imprint, Stan returns to Movement with a huge rendition of 'Gignesthai'. Opting for a fuller, more robust groove, the Bulgarian artist focuses on a strong rhythmic narrative, resulting in a great complement to the original. Commanding yet mysterious, it's reprocessed motifs and growling synth swells make for an intense first act, before the main break shifts the narrative into emotive territory. Poignant chord changes billow below as a rush of noise and classy modulation cues a powerful drop. 
Rounding out the release and providing the second and final interpretation of 'Gignesthai' is label artist Emi Galvan. Now making his sixth appearance on the Greek imprint, the Argentinean producer also lays claim to releases on Hernan Cattaneo's Sudbeat Music and Nick Warren's The Soundgarden. Known for being selective in his projects, Emi now returns to Movement for just his third remix of the year. A DJ friendly beginning of spongy kicks and effervescent percussion leads to the introduction of buoyant basslines and rhythmic pulses. A perfect balance of warmth and drive provides the foundation for haunting motifs, teased across the first act as layers of percussion push the energy higher. Astral aesthetics highlight the main break, both quirky and rhythmic they elevate mood, eventually resetting the groove for a pulsating drop and mystical finale. An inspired remix from Emi which caps off a welcome return to electronic music for Ruben Karapetyan, an artist you are certainly going to be hearing much more from in the future.