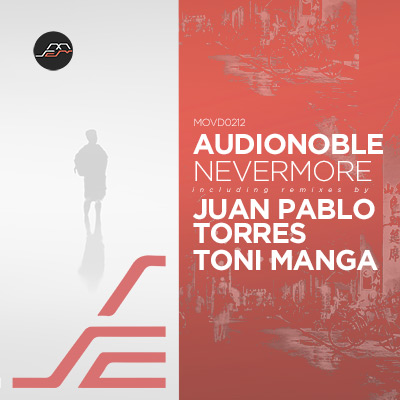 Artist: Audionoble
Title: Nevermore / Through The Night
Remixers: Juan Pablo Torrez, Toni Manga
Release Date: 10 January 2021
Supported by: Chris Fortier, Darin Epsilon, Paul Thomas, Lonya, Aaryon, Tom Zeta, ZIGER, Mariano Mellino, Mike Griego, Fernando Olaya, Eric Rose, Weird Sounding Dude, Ian Dillon, Tash, Pedro Mercado, DJ Ruby, Sanjay Dutta, ao
Movement Recordings begins the new year by welcoming Audionoble to the label for his debut EP. The Turkish DJ and producer has been a known figure within Istanbul's club scene for over a decade, getting a foothold with his self organized events before showcasing his talents at the city's trendiest venues. Making his production debut earlier this year, Audionoble landed releases courtesy of FIFTH ELEMENT, Revolt Music and Wold Records, where his astral techno sound was well received. Now getting 2021 off to a great start Audionoble debuts on Movement Recordings with 'Through the Night', alongside remixes from Juan Pablo Torrez and Toni Magna. 
Beginning with the title selection 'Through the Night, Audionoble delivers one of his best production to date.  Led by a punchy groove, electric rhythms and arpeggiated fragments, its ethereal nature proves to be quite inviting. Dark and mysterious across the main break, it's flair for the dramatic grows, with the introduction of an intriguing vocal as the beats drop for an enchanting finale. The companion piece 'Nevermore' finds Audionoble exploring the astral techno sensibilities he's quickly becoming known for. It's tough, rolling groove is perfectly carved, adorned with organic drums, devilish claps and cosmic artefacts. Sitting as an ideal complement to its predecessor, a dark first act preludes a dramatic break, where waves of drums and rising modulation take centerstage, before a rush of noise ushers in a foreboding finale.
The lone interpretation of 'Through the Night' is provided by Juan Pablo Torrez who makes his label debut. The Colombian artist and Clubsonica Records label boss is coming off an impressive year in 2020. Beginning with a remix of Juan Deminicis in collaboration with fellow countryman and progressive music star Kamilo Sanclemente, Juan went on to showcase his music on Nick Warren's The Soundgarden, John OO Fleming's JOOF Recordings and Darin Epsilon's Perspectives Digital. Also, a favourite of progressive music tastemaker Hernan Cattaneo, the Medellín resident now gets 2021 underway with a huge interpretation of 'Through the Night'. Electrically charged with punchy beats and a tighter take on the groove, it's energetic prowess beams brightly from the outset. Combining dynamic rhythms with crisp percussion and dreamy arps makes for a sleek yet exhilarating first act. Reprocessed vocals heighten the senses as modulation rises leading into the break. Grandiose and dramatic in equal measure, haunting vocals and pixie-like melodies highlight the centrepiece, elevating mood before getting washed away as the groove gallops towards a stirring final movement.
Rounding out the release and providing the lone interpretation of 'Nevermore' is label artist Toni Magna. Born in Munich, Germany but now based in Thessaloniki, Greece; Toni returns following a three-year absence from producing. Once a staple on the label's roster with nearly twenty discography credits, the German artist has retooled his sound in recent years and now presents a fresh perspective with his interpretation of 'Nevermore'. Taking a cue from the original Toni delivers a headier rendition led by driving percussion, spacey arps and mysterious vocal fragments. Tough and energetic in all the right ways, it's fluid cadence and memorable effects make for a fresh sounding eight-minute journey. A brilliant remix from Toni which rounds out a superb offering from Tash's Movement Recordings to begin the year. Highly recommended.