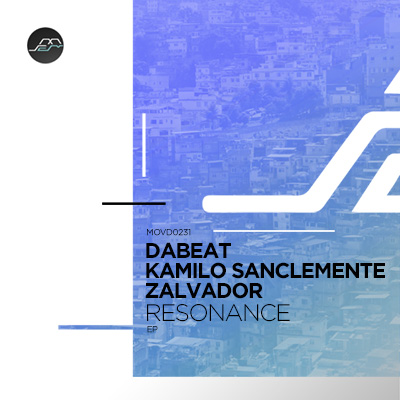 Artist: Dabeat, Kamilo Sanclemente, Zalvador
Title: Resonance EP
Release Date: 29 October 2021
Supported by: Above & Beyond, Agoria, Âme, Anthony Pappa, Armen Miran, Armin van Buuren, Audiojack, Cid Inc, Danny Tenaglia DJ, Don Diablo, Dubfire, Ezequiel Arias, Ferry Corsten, John Digweed, Joris Voorn, KOLLEKTIV TURMSTRASSE, Lonya, Mariano Mellino, Markus Schulz, Paul Oakenfold, Pete Tong, Solomun, ao
Rounding out the month of October, Tash's Movement Recordings welcomes Dabeat to the label for his debut EP. Sitting as one of Colombia's premiere progressive house talents, David Barragan aka Dabeat has enjoyed a steady rise since first emerging in 2008 with a release courtesy of Beatfreak Recordings. The next decade saw David perfect his craft with a sound that many describe as groovy, dynamic and emotional. Now laying claim to an impressive discography, the Santiago de Cali resident has showcased his music via Cid Inc's Replug Records, Nick Warren's Hope Recordings, Clubsonica Records, Mango Alley and Proton Music, while continuing to receive play and support from the genre's premiere tastemakers. Now continuing what has been an inspired year, Dabeat makes his Movement Recordings debut with a four-track showcase entitled 'Resonance'.


Getting the release underway with 'Istila', Dabeat collaborates with fellow countryman Zalvador. As occasional studio partners, the duo have recorded joint productions for D-Nox's Sprout, Mango Alley, Univack and more. Aiming squarely at a peak time dance floor 'Istila' sets the tone for the release with its infectious grooves, buzzing effects and warm, breezy overlays. Tantalizing arps emerge leading into the main break, acting as a perfect bridge into an interlude where emotive melodies marry placid pads onwards to a heartfelt finale.

Selection two finds Dabeat collaborating with frequent studio partner and progressive music star Kamilo Sanclemente. Long regarded as one of Colombia's foremost electronic music talents, the Cali resident has found a home on Anjunadeep, Clubsonica, Songspire and The Soundgarden, while earning continued support from Hernan Cattaneo, Nick Warren and Guy J. Now paired with Dabeat once again the duo deliver the EP's title selection 'Resonance'. Tight and rhythmic in all the right ways; fiery percussion and wavy arps set the course for aural enlightenment. Emotive chord changes transcend time and space across the first act, providing a poignant anchor for metallic motifs and shapeshifting melodies to work their magic during a thrilling conclusion.

The release concludes with two solo productions from Dabeat, beginning with the meditative sounds of 'Holofractal'. Its pulsating groove is perfectly contoured, adorned with rhythmic waves, delicate arps and colourful chord stabs. Glowing pads advance narrative, moving through poignant chord changes, while adding depth and emotion leading into the main break. Moving from placid soundscapes to cosmic creativities, the interlude not only shifts mood but builds tension towards a thumping drop and playful finale.

The final selection 'Sacrana' follows suit and is well in line with the previous track with its free flowing, trippy style. A marriage of emotive harmonics dazzle across the first act, sitting atop a fluid, progressive minded groove and layers of driving percussion. Once again, the main break is set to delight dance floors with its emotional disposition and tasteful build, which perfectly shift energy into a fluid, key changing finale. Exhilarating and memorable, it rounds out a welcome Movement Recordings debut for Dabeat, a highly talented artist who continues to be one of Colombia's most exciting progressive house producers.