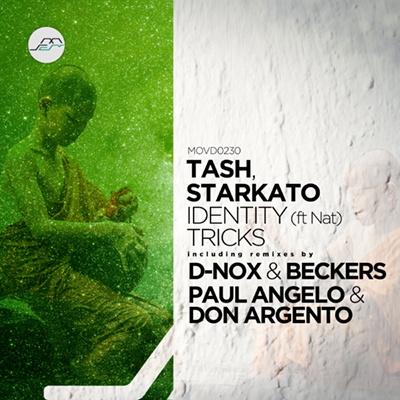 Artist: Tash, Starkato ft Nat
Title: Identity / Tricks
Remixer: D-Nox & Beckers, Paul Angelo & Don Argento
Release Date: 15 October 2021
Supported by: Mind Against, Agoria, Adriatique, Be Svedsen, Damian Lazarus, Ame, &me, Audio Jack, Arude, John Digweed, Sasha Carassi, Red Axes, Hraach, Graziano Raffa, Mariano Mellino, ao
Tash and Starkato return to Movement Recordings with a follow-up to 2019's well-received 'Sqr'. Greek artist and Movement Recordings boss Tash has had a prolific year thus far. Releases via Lowbit Records, Mango Alley, Just Movement and UV Noir have all been standouts as he continues to tread the waters between progressive and melodic house and techno. Similarly, Barcelona resident Starkato has had a strong campaign across 2021, highlighted by releases via Alpha Black, DIT KLINGT JUT, Mango Alley and Movement's new Limited division. Now uniting once again, Tash and Starkato present their much anticipated 'Identity/Tricks' double a-side EP, alongside remixes from D-Nox & Beckers and Paul Angelo & Don Argento.


Getting the release underway with 'Identity' it is Tash and Starkato's masterstroke to collaborate and introduce the sublime vocals of Nat. However, it's an intro of punchy beats, detailed percussion and emerging atmospheres that set the stage for a wavy groove, astral synth stylings and fierce effects. Building tension across the first act, its dramatic nature comes to full fruition during the main break, as Nat's vocal wails steal the air, resonating against a backdrop of warm bass swells and granular sonics; eventually melting down to a sequence of bass stabs as the emotive groove drops for a dramatic conclusion. The companion piece 'Tricks' sits as a worthy complement with prophetic leanings and square aim at the dance floor. It's warm, pulsating groove is perfectly carved, flanked with panning acid lines, elastic-like chord changes and glowing pads. From ominous beginnings comes a hopeful centrepiece, one where reflective themes rise to prominence, creating memorable moments as looping vocal pads cue a powerful drop and driving finale.

Making their label debut and providing the lone interpretation of 'Identity' is D-Nox and Beckers. As one of electronic music's most beloved duos, Germany's D-Nox and Beckers have continued to thrill fans with both cutting edge music and enlightening DJ sets. Releases on Bedrock Records, Selador and Sudbeat Music, coupled with appearances at the world's largest festivals have made the duo a favourite amongst their fans and contemporaries. 2021 has been another exceptional year for the duo, highlighted by recent projects for Balance Music, Beat and Path, Heinz Music and Mango Alley. Fresh off a remix for Digital Structures, D-Nox and Beckers now make their Movement Recordings debut with a stunning take on 'Identity'. Setting the piece in motion, a foundation of tight beats, machine gun basslines and reprocessed vocals converge for a wall of momentous energy. Effervescent percussion and a lighter take on the lead breathe beautifully over the meticulously produced framework, eventually leading to a break of cosmic arps and further vocal meanderings. Unconventional chord changes add a unique emotional response coming out of the break, bringing both symphonic and heartfelt moods across a tastefully constructed finale.

The release concludes with label artists Paul Angelo and Don Argento returning for the lone interpretation of 'Tricks'. Hailing from Cyprus, the much-loved duo have been regular contributors to Movement Recordings, with seven appearances since making their debut in 2017. Often walking the line between progressive house and melodic house and techno, Paul and Don continue to be fixtures in Beatport's sales charts, with a string of impressive outings via Astral Records, Clubsonica Records and UV. Now making a welcome return to Movement, Paul and Don round out the release with a powerful rendition of 'Tricks'. Drawing on the darker sensibilities of the original, the duo strip the framework down for a heady take that lands with just as much impact. Devilish sonics, nasally acid lines and cavernous effects play off each other wonderfully, while a gentle tonal tension continues to build drama and anticipation. Icy pads add depth and emotion across the first act, set perfectly against the tough yet groovy architecture, while a timely break brings a prophetic swell which sets the course for a buzzing finale. A perfect interpretation to cap off one of Movement's biggest releases of the year, one where label boss Tash and occasional studio partner Starkato deliver their best work to date. Highly recommended.