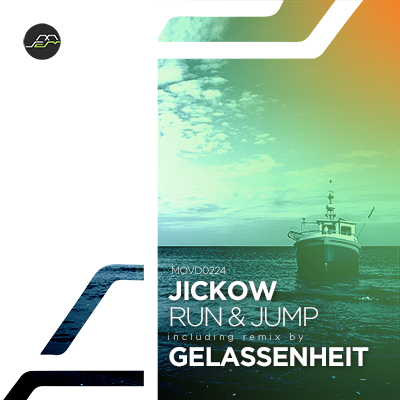 Artist: Jickow
Title: Run & Jump
Remixer: Gelassenheit
Release Date: 9 July 2021
Supported by: Adriatique, Agoria, Ame, &me, Solomun, Armin Van Buuren, Paul Oakenfold, Damian Lazarus, Sasha Carassi, DJ T, Joris Voorn, Kollektiv Turmstrasse, M.A.N.D.Y, Lonya, Mind Against, Pete Tong, Red Axes, Navar, ao
The latest release on Tash's Movement Recordings welcomes Jickow to the label for his debut EP. As a highly regarded DJ, Jickow began his journey in the South of France before going on to delight crowds at Kater Holzig (Berlin), Rachdingue (Catalonia) and Jesus Club (Saint Petersburg). Eventually settling in Belgium, Jickow became a primary figure in the country's nightlife, sharing the booth with international talents such as Oxia, Lee Van Dowski, Pleasurekraft, Olivier Huntemann, Anthony Rother and Marc Houle. As a producer, JIckow takes the quality of quantity approach, taking time to perfect his craft and choosing his projects wisely, with Beatfreak, Frequenza and Pursuit being landing spots for his fresh take on melodic house and techno. Now following a project for Deep House Belgium, Jickow steps up to Movement Recordings for his debut EP 'Run and Jump' alongside a remix from Gelassenheit.
Beginning with 'Jumping in the Sand' Jickow delivers one of his best productions to date. Led by a punchy groove, pulsating rhythms and astral stabs, its ethereal nature proves to be quite compelling. Dark and mysterious across the first act, it's flair for the dramatic grows, with an emotive break that elevates mood and tension, before getting washed away in a rush of beats and percussion for a heady finale.
Also making their label debut and providing the lone interpretation of 'Jumping in the Sand' is Gelassenheit. Based in Australia and making up the Gelassenheit duo are Max and Netanel. Founders of the nightlife brand Dopamine Collective, the Aussie duo are not only regulars on the country's club circuit but also lay claim to a short but meticulous discography, highlighted by releases on Interfonic, Love Matters and Soleid. Now making their Movement Recordings debut, Gelassenheit provides an inspired take on 'Jumping in the Sand'. Electrically charged with punchy beats and a looser take on the groove, it's energetic prowess beams brightly from the outset. Combining dynamic rhythms with crisp percussion and emotive chord changes makes for a sleek yet poignant first act. Playful arps and timely modulation heighten the senses leading into the main break. Grandiose and dramatic in equal measure, haunting vocal pads and warm bass swells highlight the centrepiece, paving the way for a broken beat section and smooth energy bridge into a moving finale.
Rounding out the release are 'Running Egg' and 'Sweet Sadness' which find Jickow exploring more astral techno narratives. The former delights with its minimalistic design, rippling groove and cosmic artefacts. Sitting as an ideal complement to its predecessor, a heady first act preludes a dramatic break, where buzzing lines and gaseous effects take centerstage, before a rush of noise ushers in a charged finale. Meanwhile, 'Sweet Sadness' comes in more muscular and robust with an undulating groove, striking arps and a mystical vocal narrative which highlights a cavernous break. It rounds out a superb Movement Recordings debut for Jickow, who is most certainly operating at a creative peak here