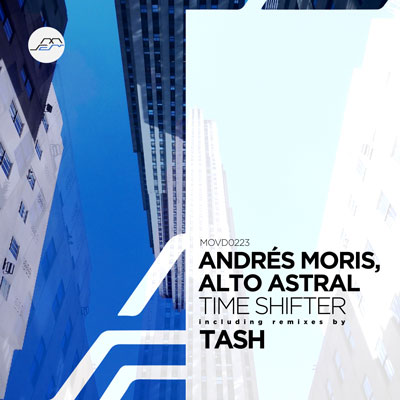 Artist: Andrés Moris, Alto Astral
Title: Time Shifter
Remixer: Tash
Release Date: 25 June 2021
Supported by: John Digweed, Damian Lazarus, Solomun, Dubfire, Dixon, Agoria, Joris Voorn, MAETRIK, Mind Against, Adriatique, DJ T., M.A.N.D.Y., KOLLEKTIV TURMSTRASSE, Pete Tong, Danny Tenaglia DJ, Paul Oakenfold, Above & Beyond, Markus Schulz, Audiojack, &ME, Red Axes, Armen Miran, Lonya, Navar, ao. 
Opening the summer season, Tash's Movement Recordings welcomes Andres Moris and Alto Astral to the label for their debut EP. Based in Argentina, Andre Moris has been touted as one of his country's fastest rising progressive house talents. Although only a year into his production career, the Cordoba resident has already earned the support of Hernan Cattaneo and Nick Warren, while landing releases via Antrim's Or Two Strangers, 3rd Avenue, Balkan Connection and Droid9. Now making his Movement Recordings debut, Andre teams up with newcomer and fellow country-duo of Alto Astral for a three-track showcase entitled 'Time Shifter', alongside a remix from label boss Tash.
Working with a strong creative synergy from the start, it is the title selection which leads the release off. Andres and Alto carve out a thunderous, low slung groove to act as the vehicle for waves of flickering percussion and buzzing synth lines. Delicate melodies emerge across the first act, eventually opening up for a strong vocal narrative. Hopeful and charming, these impassioned phrases carry the journey into the break, where tension rises and the framework resets for a groovy finale.
Providing the lone interpretation of 'Time Shifter' is Tash. The Greek artist and Movement brand founder has been a primary fixture of the electronic music underground for well over a decade. In addition to hosting some of Greece's finest events, Tash has also released his music on a host of quality imprints, most notably Beat Boutique, Beatfreak, FSOE and UV. Having recently collaborated with Shrii on a single for label affiliate Movement Limited, Tash now returns to his primary home for a stellar rendition of 'Time Shifter'. Staying true to the main themes from the original, the Movement boss opens up the framework for a greater sense of space where the vocal springs to life amidst a haze of buzzing synths and sweeping atmospheres. Chopped and reprocessed, the vocals play off the key changing groove, as cascading melodies and spine-tingling effects transfer energy into the main break. Coming to fruition, the full vocal emerges across the centrepiece, as kaleidoscopic arps and dynamic modulation spark a resounding drop and charged finale. For the less vocally inclined Tash has also included a dub which will certainly come in handy on the headier dance floors out there.
Rounding out the release are two more originals entitled 'Stargate' and 'Skylight'. The former finds the Argentinean duo drawing on their progressive roots with a smooth, melodious creation that's bound to find favour with progressive music's top DJs. A thunderous, thumping groove sets the pace for sweeping sonics and pixie-like melodies, before a tension filled break puts your sensors on high alert for a stomping final movement. 'Skylight' follows suit with a chunkier groove, choppy percussion, and striking stabs. Dynamic and powerful, its buoyant foundation is adorned with phasing harmonics, as it moves through emotive chord changes leading into the second of two breaks. Opting to dial in anticipation further, the centrepiece opens up into a rhythmic crescendo as the beats drop for a thunderous conclusion. A masterful track from Andre and Alto, which puts a resounding cap on an impressive Movement Recordings debut for the Argentinean duo. Don't miss it.