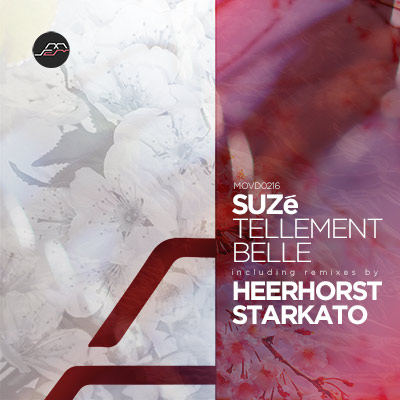 Artist: SUZé
Title: Tellement Belle
Remixer: Starkato, Heerhorst
Release Date: 22 March 2021
Supported by: Âme, John Digweed, Armin van Buuren, Above & Beyond, Agoria, Solomun (Official), Adriatique, Mind Against, Joris Voorn, M.A.N.D.Y., KOLLEKTIV TURMSTRASSE, Pete Tong, Danny Tenaglia DJ, Quivver, Piemont, Red Axes, ao
Movement Recordings opens the spring season by welcoming SUZe to the label for her debut EP. While spending time in both France and California, she has settled in Germany, calling Hamburg home. Upon making her debut on Beatfreak's Limited division in 2019, SUZe has since gone on to showcase her music via Freegrant, KATERMUKKE and ICONYC Noir. Often sitting in the creative space between progressive house and melodic techno, the German artist's sound continues to evolve and impress. Now stepping up for her first original project of the year, SUZe debuts on Movement Recordings with 'Anthem of Nostalgia' alongside remixes from Heerhorst and Starkato.
Beginning with the title selection, SUZe delivers one of her best productions to date. Led by a warm yet punchy groove, it's electric rhythms and astral sonics unite for an interstellar storyboard. Quirky and cool, cosmic synth phrasing delights during the first act, as a maze of percussion and drums pushes momentum forward. Dark and mysterious across the main break, it's flair for the dramatic grows, with a trail of drums sparking a resounding apex and charged drop. The companion piece 'Tellement Belle' finds SUZe exploring a more emotional narrative without drifting too far from the astral sensibilities she's quickly becoming known for. It's tough, rolling groove is perfectly carved, adorned with dynamic drums, waves of percussion and compelling cosmic artefacts. Sitting as an ideal complement to its predecessor, its melodic prowess proves irresistible, with impassioned chord changes anchoring a tantalizing lead melody onwards to an exhilarating finale.
Making his label debut and providing the first interpretation of 'Anthem of Nostalgia' is Heershorst. The German remains at the forefront of the melodic techno movement, continuing to showcase his music on top imprints such as BeatFreak Recordings, ICONYC and Stil Vor Talent. Now making his long overdue debut on Movement Recordings, Heerhorst turns in a powerful rendition of 'Anthem of Nostalgia'. Electrically charged with tough beats and a tighter take on the groove, it's pulsating energy beams brightly from the outset. Combining dynamic rhythms with buoyant arps and detailed percussion makes for a sleek yet exhilarating first act. A fragmented take on the lead theme dazzles leading into the break, before melting down to a sonic sizzle as the groove drives towards a stirring final movement.
Rounding out the release and providing the second and final interpretation of 'Anthem of Nostalgia' is Starkato. The German artist has found a comfortable home on the Greek imprint with this being his ninth appearance. Also laying claim to releases on Hernan Cattaneo's Sudbeat Music, Beatfreak and ICONYC, the Wiesbaden resident remains an in-demand talent across the melodic techno landscape. Now returning to Movement, Starkato readies a massive remix of 'Anthem of Nostalgia'. Taking a cue from the original, Starkato delivers a headier rendition led by intricate percussion, murky atmospheres and granular synths. Spacey and minimal in all the right ways, it's free flowing cadence and tasteful effects make for an enlightening seven-minute journey. A brilliant remix from Starkato which rounds out a superb label debut from SUZe. Highly recommended.