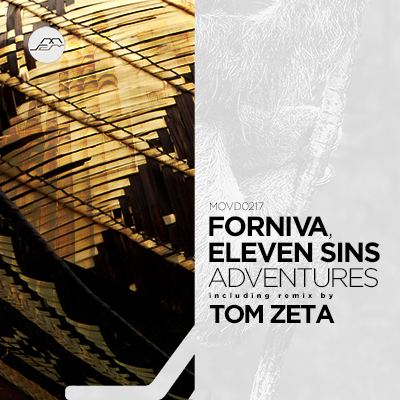 Artist: Forniva & Eleven Sins
Title: Adventures EP - Panama, Jumanji, Kontiki
Remixer: Tom Zeta
Release Date: 5 April 2021
Supported by: Solomun, Âme, Dixon, John Digweed, Marco Carola, Armin van Buuren, Pete Tong, Joris Voorn, Agoria, &ME, M.A.N.D.Y., DJ T., KOLLEKTIV TURMSTRASSE, Eelke Kleijn, Audiojack, Paul Anthonee, Arude, Red Axes, Newman, Nicolas Masseyeff, Lonya, ao
The latest release from Tash's Movement Recordings welcomes Forniva and Eleven Sins back to the label for a new EP entitled 'Panama'. 2018 marked the Bosnian duo's first appearance on the Greek imprint, with a contribution to the label's popular 'Technical Progress' series, while Forniva sent on to record a remix for Emi Galvan ion solo capacity. Forging a strong bond with the label in the process, 2020 then saw Forniva return to Movement for his first EP entitled 'Tinkerbell' and a remix of Sean & Dee's massive 'Before The Storm'. Now following collective appearances on MoBlack, Manual Music and Selador, Forniva & Eleven Sins land back on Movement with a three-track showcase alongside a remix from Tom Zeta.
With a blend of contemporary and retro elements it is the title selection which gets the EP underway. Complementing its electric groove are 80s influenced drums and evocative motifs. Unpredictable and catchy, the lead theme is strikingly fresh, weaving its way through mind-bending modulation and onwards amidst a maze of dynamic hits, perfectly setting up indie-esque overlays which spearhead an emotive centrepiece.
Making his label debut and providing the lone interpretation of 'Panama' is Tom Zeta. Since first appearing in 2017 with a release on Diynamic, the Dutch producer has gone on to showcase his music via Anjunabeats, Beatfreak, Einmusika and KATERMUKKE. Now following the vocal anthem 'Heist' for Zerothree which got 2021 underway in style, Tom debuts on Movement with a powerful take on 'Panama'. Setting the piece in motion is a bed of tough beats and thunderous bass tones. A deconstructed take on the lead theme beams brightly across the first act, while airy pads elevate mood as layers of finely tuned percussion flow through the framework. Pushing emotion higher, the main break keeps the rhythm locked with emerging atmospheres and tasteful modulation ushering in a commanding drop and powerful finale.
The second selection 'Jumanji' follows suit with an equally impressive display of rhythm, groove and contemporary sounds. Highly stylized across it's six-minute running time, a robust low-end fuels it's swaying cadence, while quirky themes, timely drum fills and emotive overlays unite for a glowing finale. Its subtle charm sets the stage perfectly for the playful sounds of the third and final original 'Kontiki'. Dark and mysterious from the outset, it's shapely low end and undulating rhythms provide momentous drive, while retro arps and haunting atmospheres fill in the framework. Fluttery melodic concepts add depth to the narrative, accented perfectly with clattering drums, before a serene break resets the groove for a buoyant finale. It rounds out an inspired return to Movement for Forniva & Eleven Sins, an artist who continues to push his creative boundaries as 2021 takes shape.