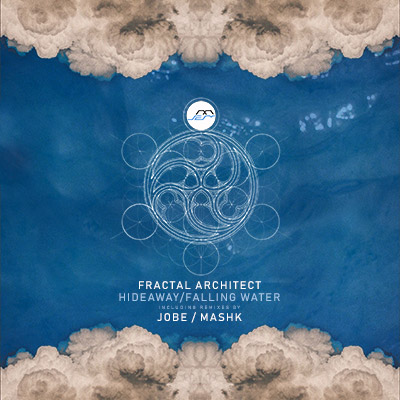 Artist: Fractal Architect
Title:  Hideaway
Remixers: JOBE, Mashk
Release Date: 19 August 2019
Supported by: Eelke Kleijn, Cid Inc, Jonas Saalbach, Max Graham, Chris Fortier, Betoko, Dale Middleton, Alex Preda, Ran Salman, Paul Anthonee, Jorgio Kioris, Mike Griego, Sezer Uysal, Jaques Le Noir, Simply City, unders ao.

Tash's Movement Recordings continues a strong summer season by welcoming Daniel Watts aka Fractal Architect to the label for his debut EP. The UK artist first appeared on the melodic techno scene in 2015 with releases on Paul Hazendonk's Manual Music and MNL imprints. Daniel's unique approach to composition earned immediate praise from both his contemporaries and the genre's key tastemakers. Now four years on Fractal Architect has found a home on Dear Deer, ICONYC and Steyoyoke. Perhaps long overdue, the UK artist now makes his Movement Recordings debut with 'Hideaway' alongside remixes from Jobe and Mashk.
Beginning with the title and showcase piece 'Hideaway' Fractal Architect continues to explore elegant melodic sensibilities. 'Hideaway' comes in a touch more techno inspired and equally compelling. Backed by a deliberate yet inviting groove, it's radiant arps, fragmented noise and astral stabs fill in a framework surrounded by exotic drums. Timely modulation continues to elevate the mood before a wall of tripped out sonics and moody meanderings deliver an exhilarating apex. The companion piece 'Falling Water' is Deep and delicate. It's tepid kick and perfectly contoured bass flows with wonderful warmth as luminous tones and cascading motifs trail across the framework. The main break adds anticipatory vibes with just the right amount of tension to keep it's exquisite vibe fully intact, perfectly setting up a poignant conclusion.
The first interpretation of 'Falling Water' is provided by Jobe who returns to the label for his second appearance. The UK artist first appeared on the Greek imprint in February of 2017 with his 'Poseidon' EP. The three track showcase went on to be one of the labels best selling releases of year and saw Jobe go on to further projects for Chapter 24, Selador and Steyoyoke. Now following a remix for Marc DePulse's Jeahmon! imprint, Jobe returns to Movement with a stunning rendition of 'Falling Water'. Remarkably fluid and undeniably modern, it's a mix that stays true to the delicate themes from the original, while adding an underlying tension through unique sonic artefacts and esoteric atmospheres. Smooth chord changes add an understated yet impassioned vibe coming out of the break, before eventually elevating into blissful territory through tasteful modulation and a flair for the dramatic.
The release concludes with Mashk providing the second and final interpretation of 'Falling Water'. The French artist owns an impressive discography, highlighted by appearances on Dear Deer, Manual Music, Parquet Recordings and Steyoyoke. Now making his much anticipated Movement Recordings debut, Mashk rounds the release out with a superb take on 'Falling Water'. Clocking in at nearly ten minutes, it's spacious rhythmic core quickly becomes infectious as icy pads and astral designs fill in percussive gaps. Expansive and perfectly timed, the main break drifts further into cinematic territory, meditative at points, emotive at others, making for a memorable dance floor moment before a smooth energy bridge transitions the piece into a stylish finale. A lovely remix from Mashk, rounding out what is a great Movement Recordings debut for Fractal Architect. Highly recommended.