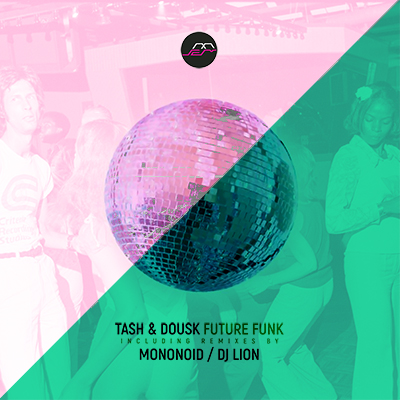 Artist: Tash & Dousk
Title:  Future Funk
Remixers: Mononoid 
Release Date: 24 June 2019
Supported by: Eelke Kleijn, John 00 Fleming, Francesco Pico, Steve Parry, Mike Griego, D-Compost, Chris Fortier, Paul Anthonee, Miss Melera, Mariano Mellino, Tripswitch, Emi Galvan, Nicolas Rada, Grazziano Raffa, Lonya, Unders, Dale Middleton, Jaques Le Noir, Ezequiel Arias a.o.

The latest release from Movement Recordings finds label boss Tash joining forces with Dousk for their debut collaboration. As two of Greece's most storied electronic music talents, both Dousk and Tash have carved out distinctive careers. The former beginning his journey on John Digweed's Bedrock Records almost two decades ago, to more recent times with quality outings on DJ Zombi's Beat Boutique and Proton Music. While Movement boss Tash has enjoyed similar success in recent years, showcasing his music on D-Formation's Beatfreak Recordings and Paul Hazendonk's Manual Music. Now coming together for the first time, Dousk and Tash present their debut collaboration 'Future Funk' alongside a remix from Mononoid.
Beginning with the original mix the duo's production expertise becomes readily apparent as they craft a dance floor creation for the ages. Built around a spacious, funk filled groove it's a cascading tonal narrative which eventually grabs a hold of you. Vibrant and timeless, it's effervescent character commands a big presence, while a complementary groove and astral designs only add to its rhythmic charm. A well crafted break is the icing on the cake, with an airy, atmospheric tension and tasteful modulation building towards a drop that's sure to capture the full attention of your dance floor.
The lone interpretation of 'Future Funk' is provided by Mononoid who return to the label for their third appearance. The Dutch duo debuted on the Greek imprint in October of 2018 with the well received 'Wind Mee'. April of this year then yielded a stunning remix for Weekend Heroes, with a cutting edge EP for D-Formation's Beatfreak Recordings following shortly thereafter. Now landing back on the storied Greek imprint, Mononoid turn in a superb interpretation of 'Future Funk'. Pristine in design and powerful in delivery, beefy beats and finely tuned drums create a buoyant framework at the outset. The seven minute journey proves to be a master class in dramatic storyboarding, as acidic pulses and astral aesthetics pierce the air in striking fashion. Icy atmospheres then descend over the groove, carrying perfectly into the main break, before a flurry of drums and a fragmented take on the lead theme spark a cosmic finale. It caps off a hugely successful collaborative project from Dousk and Tash, which further solidifies Movement Recordings as an elite imprint under the progressive music umbrella.