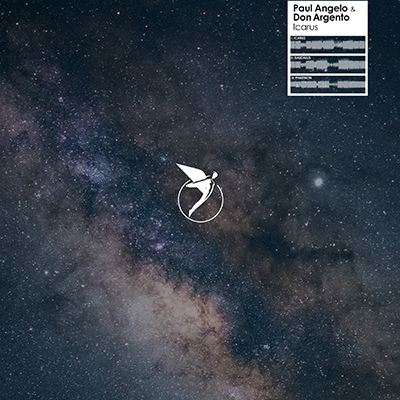 Artist: Paul Angelo & Don Argento
Title: Icarus
Release Date: 23 April 2021
Supported by: Øostil, 2pole, Darin Epsilon, Ran Salman, Modeplex, Wurtz, Esoteric Circle, Haze-M, Miss Melera, Paul Thomas, Arude, Luke Garcia, Lonya, Nico Morano, Abstraal, Axel Haube, Chris Cargo, Jamie Stevens, ao
Astral Records continues a strong start by welcoming Paul Angelo and Don Argento to the label for their first EP. Hailing from Cyprus, the much loved duo have been regular contributors to parent label Movement Recordings, having appeared there seven times since making their debut in 2017. Often walking the line between melodic house and techno and progressive house, Paul and Don have become fixtures in Beatport's sales charts of late with a string of impressive outings via Clubsonica Records, Timeless Moment and UV. Now making a welcome debut on Astral, the duo presents a three-track showcase entitled 'Icarus'.
Working well with the label's ethos Paul and Don lean closer to the melodic house and techno side of their studio repertoire. The title selection 'Icarus' sets the tone with a pulsating, hypno groove and a simple yet foreboding arp. Stripped and tense in equal measure, the duo build drama across the first act with rising modulation, percussive splashes and a backdrop of prophetic pads. Opening up during the main break, a wave of atmospheric swells rises momentarily, gently teasing the senses before getting pulled back in favour of the deliberate groove and meditative structures.
'Daedalus' follows with a further lean towards astral techno territory. Although perhaps best known for their peak time creations the track furthers the sentiment that Paul and Don are equally adept at crafting more subtle, refined selections. Smooth and rhythmic in all the right ways, spacious percussion and cosmic arps descend over the rippling foundation, as haunting overlays add colour and texture at opportune moments. Expanding across a one-minute centrepiece, trippy synth clusters sit at the emotional core of the track, elevating mood before eventually getting washed away in favour of the main arp and a compact groove.
Rounding out the release is 'Phaethon' which finds Paul and Don exploring another unique amalgamation of techno grooves and astral aesthetics. Backed by a rippling foundation and tight rhythms, it's fluid drive quickly becomes infectious. Billowing stabs and trailing effects offset each other nicely, as the romping beats build momentum across the first act. Icy tones strike at opportune moments leading into the main break, adding additional depth as its hypnotic drawl saturates your senses during a dramatic final movement. It rounds out a superb Astral Records debut for Paul and Don, who continue to expand their creative scope with the 'Icarus' collection.