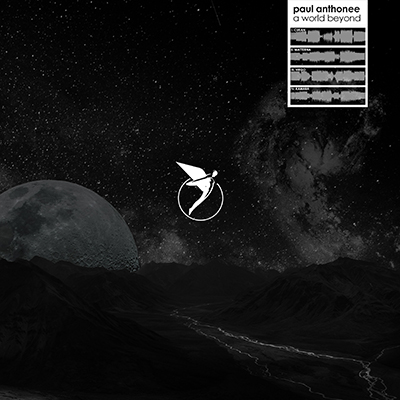 Artist: Paul Anthonee
Title: A World Beyond
Release Date: 1 March 2021
Supported by: Solomun, Dubfire, John Digweed, Pete Tong, Armin van Buuren, Âme, Agoria, Joris Voorn, DJ T., Adriatique. Above & Beyond, Danny Tenaglia DJ, KOLLEKTIV TURMSTRASSE, BLANCAh, SOEL, Alexandros Djkevingr & Greg Ignatovich, Dizharmonia, Binaryh, Voices Of Valley, Esoteric Circle, Paul Angelo & Don Argento, Nohak, Emiliano Demarco, Clawz SG, ao
Rising from the storied history of Movement is a new concept imprint 'Ãstrαλ'. Meaning 'of the stars' - Astral Records can be thought of an ecstatic, mystical out-of-body experience, wherein the spiritual traveller leaves the physical body and travels in an astral body onto 'higher' realms. A fitting description for the musical blueprint of the label which looks to showcase the best in contemporary melodic house and techno.
Holding down the AandR duties is long-time Movement Recordings artist Paul Anthonee who has been operating at the heart of the genre since it's early beginnings. In addition to an extensive history with the Greek imprint, the Cyprus based producer has also showcased his music via Beatfreak Recordings, Lost On You, Parquet, Steyoyoke and Suara. It seems only fitting then that Astral's inaugural release comes courtesy of Paul himself who presents his most anticipated project to date 'A Word Beyond'.
Spread across four tracks it's the mystical, peak time vibes of 'Cukan' which sets the tone for the release. Bulbous beats, charged rhythms and striking effects begin the seven minute journey. Senses heighten as choir-like pads and atmospheric swells unite across a devilish first act. Heady modulation delights throughout the main break, flowing through a stimulating band of quirky hooks and unpredictability, before rising to a gaseous crescendo and driving final movement.
Continuing with the cosmic ethos of the EP is the more emotive yet equally powerful 'Matterna'. Anchored by a tight, rippling groove the energy is palpable from the outset. Ethereal phrasing and fiery percussion deliver dynamic moments early, as timely effects add depth and a rare ravey tension. Carrying into the second act, the otherworldly lead descends over a cavernous centrepiece, elevating mood before a wave of effects launches you into euphoria's top floor.
Marking the release's halfway point is the commanding 'Virgo'. Built on a backbone of tough beats and a crunchy groove, its ghostly nature is alluring from the start. Tranquil yet energetic, fragmented melodies and percussive flurries add dynamic splashes as momentum builds across the first act. The narrative shifts during the break with a further lean into ethereal territory, bringing arcane moments, before a timely drop transfers energy into an exhilarating finale. Adding further complement to its predecessor's is the final selection 'Kamara' with it's enlightening, psychedelic presence.
Another heady creation from Paul which not only aims squarely at the dance floor but rounds out the first Astral offering in fine style, with early support by BLANCAh, EdOne, Paul Angelo and Don Argento, Nohak, ao. Don't miss it.