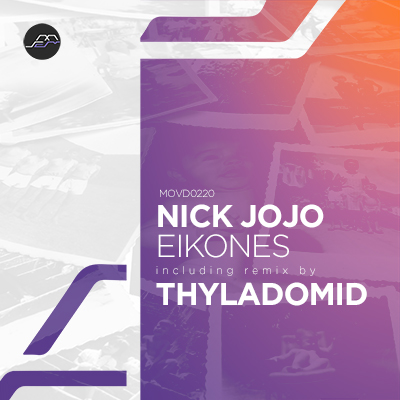 Artist: Nick Jojo
Title: Eikones
Remixer: Thyladomid
Release Date: 14 May 2021
Supported by: Adriatique, Âme, &ME, Damian Lazarus, Dixon, Dubfire, M.A.N.D.Y., Sasha Carassi, Solomun (Official), John Digweed, Joris Voorn, Armen Miran, Audiojack, DJ T., Lonya, Henry Saiz, Paul Anthonee. Gai Barone, Mariano Mellino, Nicolas Masseyeff, Opposite Ways, ao
The latest release from Tash's Movement Recordings welcomes Nick Jojo to the label for his debut EP. Hailing from Greece and inspired by the likes of Tale of Us, Dixon, Ame and Maceo Plex, Nick is considered one of the most influential Greek DJs of the past 10 years. His unique taste and exquisite programming skills have led to residences at Void Club and Alemagou Beach Bar, where he has shared the decks with Carl Craig, David Morales, Deep Dish, Dixon, Dubfire, Recondite, Sasha and Tale Of Us. Also, an accomplished producer, Nick's melodic techno sound has found a home on Depth, Family N.A.M.E and RADIANT. Now presenting his first project of 2021, Nick makes his much-anticipated Movement Recordings debut with 'Eikones', alongside a remix from Thyladomid.
Spread across four tracks it's the astral techno moods of the title selection which get the EP underway. Dark and hypnotic from the outset, it's tough beats and pulsating rhythms provide momentous drive, while granular synth swells and arpeggiated fragments fill in the framework. Stripping down into the main break, the narrative expands as wavy arps flow through mind bending modulation, eventually getting washed away into the cavernous groove, only to re-emerge for an emotive finale.
The lone interpretation of 'Eikones' is provided by Thyladomid who makes his label debut. The German artist has achieved remarkable success over the last decade, having showcased his music via Diynamic, Suara, Systematic and Traum, while earning the praise of world class DJs such as Adriatique and Solomun. Now making a welcome Movement Recordings debut, Thyladomid provides an inspired take on 'Eikones'. Opting for a similarly punchy groove, the Berlin resident focuses on a strong percussive narrative and a fragmented take on the lead theme, resulting in a great complement to the original. Undeniably peak time, the main break builds waves of emotion as placid pads and poignant tones descend over the cavernous underbelly, before a symphonic synth swell transfers energy into a driving final movement.
The journey continues with 'Haunted' which follows a similar sonic ethos but with a further lean into techno inspired territory. Beginning with muscular beats and crunchy effects, it's rhythmic appeal quickly captures your imagination. Waves of detailed percussion and haunting shades then descend over the framework, as a foggy backdrop continues to build tension. Siren-like motifs flow through unpredictable patterns leading into the main break, bending the narrative into emotive territory, and ultimately sealing the track's unique appeal.
Continuing the release's mystical ethos is its final selection 'No Boundaries' which finds Nick drifting further into esoteric territory. Dark and hypnotic from the outset it's chugging low end and undulating rhythms provide momentous swing, while astral effects and sweeping noise fill in the framework. A devilish arp and muted beats rise across the first break, bringing anticipatory vibes into a robust second act, before a mesmerizing final interlude resets the groove for a mind-bending conclusion. It rounds out a heady EP from Nick Jojo, who makes an excellent Movement Recordings debut alongside Thyladomid.