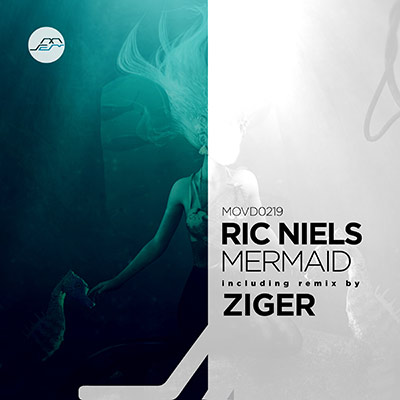 Artist: Ric Niels
Title: Mermaid
Remixer: Ziger
Release Date: 30 April 2021
Supported by: Adriatique, Agoria, Behrouz, Damian Lazarus, Danny Tenaglia, Joris Voorn, John Digweed, Paul Oakenfold, Pete Tong, Tim Green, Roger Sanchez, Andme, Kollektiv Turmstrasse, Audio Jack, Jos & Eli, John 00 Fleming, Markus Schulz, Armin Van Buuren, Giuseppe Ottavianni, Above & Beyond, Solarstone, Navar, Rick Pier O'Neil, Simos Tagias, ao
Tash's Movement Recordings welcomes Ric Niels back to the label for his debut EP entitled 'Mermaid'. Having first appeared on the Greek imprint earlier this year with a contribution to the label's Technical Progress, Vol. 11 collection, the Argentinean artist has continued to impress with releases via Clubsonica Records, Dopamine White and Mango Alley. At still under a year into his journey as a producer, Ric now returns to Movement for his first artist EP alongside a remix from Ziger.
The release begins with the upbeat progressive vibes of the title selection. Smooth and groovy throughout, it carries a sleek hypnotic quality at the outset. Moving through layers of detailed percussion and frantic arps, as vocal overlays and emotive stabs push energy into the main break. The vocal narrative expands across the centrepiece, set against a backdrop of warm bass swells and glowing pads, effortlessly building energy into a euphoric key changing finale.
The lone interpretation of 'Mermaid' is provided by Ziger who returns to the label for his eighth appearance. As one of Movement's primary contributors for many years, the Greek artist has also found a home on Hernan Cattaneo's Sudbeat Music, Beatfreak, ICONYC and his own Eat My Hat imprint. Now presenting his first remix of 2021, Ziger returns to Movement with a massive rendition of 'Mermaid'. Opting for more of an astral techno vibe, the Greek artist focuses on a darker, more electric narrative, resulting in a great complement to the original. Commanding yet mysterious, it's fiery percussion, growling stabs and machine gun style groove make for an intense first act. Although used sparingly, the vocal breathes beautifully as the main break evolves, complementing a fuzzy arp which ultimately propels the track to a thunderous conclusion.
The second selection 'From the Sky' follows a similar sonic ethos to its predecessor and resonates on an equally impressive level. Remarkably emotive, it's fluid, key changing bass commands attention, moving through rolling contours and rhythmic pulses, while clattering percussion and haunting vocals add further spice to the groove. Ethereal atmospheres initiate the main break, eventually melting down to a reservoir of glassy arps and gated vocals, perfectly setting the stage for a dynamic final movement.
The release is capped off in fine fashion with the deeper moods of 'Deep in the Sea'. Marrying nostalgic progressive sensibilities, Ric layers rolling rhythmic structures with percussive waves and cosmic effects. It's a unique and highly engaging storyboard, one which resonates on a deeper level where the subtleties command your attention and make for a mezmerizing conclusion. It rounds out three excellent productions from Ric, who makes his first EP for Movement Recordings a most memorable one.