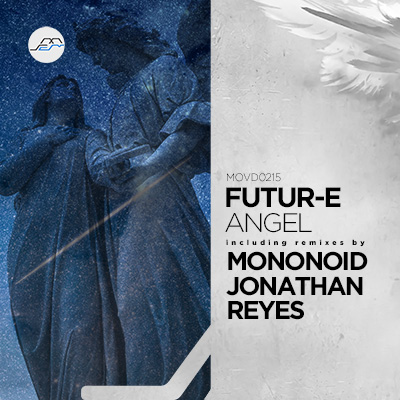 Artist: Futur-E
Title: Angel / Keros / Penelope
Remixers: Mononoid / Jonathan Reyes
Release Date: 22 February 2021
Supported by: Paul Oakenfold, Mike Koglin, Citizen Kain, Jaytech, MissMelera, Harry Lemon, Lonya, Paul Anthonee, Tash, ZIGER, Circle of Life, Carlo Whale, SEQU3l, Eric Rose, Matias Chilano, Jorgio Kioris, Praveen Achary, RIGOONI, Graziano Raffa, Weird Sounding Dude, Paul Sawyer, Juliane Wolf, Jesse Kuch , DJ Ruby, Bondarev, ao
The latest release from Tash's Movement Recordings welcomes Futur-E back to the label for his debut EP. As the Movement Recordings label manager, the Greek artist first appeared on the imprint in March of 2020 with a contribution to the 'Technical Progress, Vol.10' collection. With a career that now spans nearly a decade, Futur-E has compiled an impressive resume, landing releases on Mango Alley, MNL, Stellar Fountain and Traum, where his unique take on melodic house and techno has flourished. Now after starting the year with his first remix for Movement, Futur-E presents his long-awaited debut EP 'Angel' alongside remixes from Mononoid and Jonathan Reyes.
With three excellent originals to choose from it is the title track which gets the release underway. Dark and mysterious from the outset, it's punchy low end and rippling rhythms provide momentous drive, while striking stabs and mind-bending effects fill in the framework. As the narrative evolves, astral synths add an otherworldly feel, perfectly setting up a glowing break and acid fuelled finale. 
The second selection 'Penelope' surveys a similar design profile but with a further lean into melodic techno territory. Beginning with a warm yet punchy groove, the piece evolves with emerging arps, astral designs and layers of detailed percussion. The main break shifts the mood further into a symphonic headspace, tastefully blanketed with orchestral synth phrases and metallic designs, perfectly setting up a tight drop and techno inspired finale.
The third and final original 'Keros' once again finds Futur-E flexing the melodic house and techno side of his studio repertoire. Tough, hypnotic and a touch quirky, it's an incredibly heady eight-minute journey. Punchy beats provide the foundation, while rising atmospheres and buzzing effects create a compelling canopy of sound. Melancholic chord changes take centre stage across the break, adding a cinematic tone to the narrative, before melting down into a pulsating groove for a charged final movement.
Returning to the label and providing the first interpretation of 'Angel' is Mononoid. Residing in the Netherlands, Andy Godderis and Igor Shumlyanskiy make up the Mononoid production duo. Upon partnering in 2011, a string of releases on Traum got their career off to a great start. Consistently pushing creative boundaries over the last decade, their unique take on electronic music has since been showcased on storied labels such as Beatfreak, Beat Boutique, Einmusika, ICONYC and Stil Vor Talent. Having most recently remixed Tash & Dousk's 'Future Funk' for Movement, Mononoid now make a welcome return with a powerful take on 'Angel'. Drawing on the sensibilities of the original the Dutch residents lean closer to peak time territory, with a reworked groove and chunky rhythmic core.  An array of fresh designs strike at timely moments, as arps open up and atmospheres emerge, ultimately setting up an impassioned break and devilish finale.
The second and final interpretation of 'Angel' is provided by Jonathan Reyes who returns to the label for his second appearance. After studying Electronic Music Production at SAE in the Netherlands, Jonathan returned to his homeland of Cyprus and quickly made a name for himself, performing alongside Adriatique, Deborah De Luca, Armin van Buuren, Agents Of Time and James Zabiela. Known for his dark, melodic sound, Jonathan made his Movement debut in April of 2019 with a contribution to the label's GLBLMVMT series. Also laying claim to releases via Beatfreak Recordings and Droid9, the Nicosia resident now returns to Movement with a driving rendition of 'Angel'. Setting the piece in motion, a foundation of fluid beats, bubbly arps and percussive waves converge for a wall of momentous energy. The main break furthers the storyboard through tastefully twisted tones and compelling sonic artefacts, before a timely drop ushers in a thrilling final movement. A classy interpretation from Jonathan, rounding out Futur-E's first EP for Movement Recordings in style. Highly recommended.