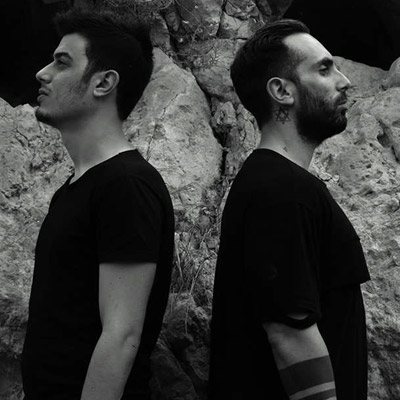 Dizharmonia is made up of Sotiris and Sokratis a duet from Athens sharing the same love for Deep Melodic Techno sound.Inspiration and influence is gathered by modern sounds of techno and oldschool sounds of progressive to create tracks aromatised by atmospheric and wicked synths and strings, aggressive basslines and tight drums.
Their very first big release came on Steyoyoke in 2016 with their track Emmanuel reaching the Top 20 (Place No.18) in Progressive House charts on Beatport while also the track "epsilon" was featuring in legendary John Digweed's Transitions Radio
Show .
Within the same year their next releases were also charted several times. In 2017 Dizharmonia signed their deal with Zenhiser for creating and releasing their own unique sounds as Techno Molecules.Same happened with Audiotent. By the same time they were reaching Top 20 once again (Place No.16) with their excessive release Pythagorion while track included to same named EP premiered by several channels like Sweet Melodic,8day and more...
In 2018 they signed to Still Vor Talent having released 2 tracks Socrates (which also climbed to #90 of Deep House Top 100) and Mihail. Same year their EP "BOAZ" reached TOP 20 in Progressive House Top 100 Releases and their EP "Heliostasion is currently on Top 100 Melodic House Releases #23 and in Top 100 Melodic House tracks (Heliostation #87)
During the last months they signed they have sign to release on Stil Vor Talent,Souq and more They have already done their first Asian Tour (Thailand,Malaysia,Singapore) while they also played in places like Ritter Butzke (Berlin), HNGR (Lebanon), Flame
(Istanbul). Their Live performance called "Armonia" is their new project starting on July 2018. They are already residents of Ritual Club Athens, Terraza Club Athens and they are commencing their summer residency on July @ Punda Coast (Paros) where they will hold their own event called "Blessings"