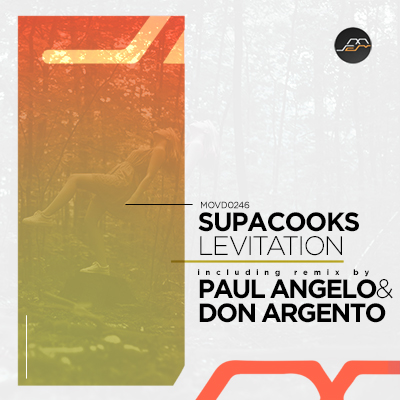 Artist: Supacooks
Title: Levitation
Remixers: Paul Angelo & Don Argento
Release Date: 1 July 2022
Supported by: Maceo Plex, Guy Gerber, Joris Voorn, Agoria, Armin van Buuren, Above & Beyond, Paul Van Dyk, Paul Oakenfold, Blond:ish, Nick Warren , Cid Inc, Anja Schneider, Armen Miran, Losless, Paul Anthonee, Simos Tagias, Arude, ao.
Tash's Movement Recordings opens the month of July by welcoming Supacooks back to the label for their debut EP. Hailing from Armenia, the Supacooks duo first emerged in 2013 with a project via BEEF Records. Applauded for their deep house grooves, Supacooks enjoyed a steady rise in the years to come, with Dear Deer, Nervous Records and Ready Mix Records all becoming landing spots for the duo's transcendent sound. Continuing to evolve as artists, Supacooks would experience an evolution in sound with the advent of melodic house & techno, choosing to explore the movement in their own productions, while earning the praise of the genre's tastemakers. Beatfreak, Lost On You and Parquet Recordings would be instrumental, serving as vehicles for the duo's contemporary vision and continued rise. So too would Movement Recordings, with Supacooks making their label debut in 2019 with a remix of Paul Angelo & Don Argento. Now making a welcome return to the label, Supacooks present their much anticipated 'Levitation' EP, alongside a remix from Paul Angelo & Don Argento.
Getting the EP underway with the title selection, Supacooks marry rolling grooves with dark rebounding rhythms and devilish stabs. Pronounced and energetic, an enticing array of effects elevates mood across the first act, as shimmering arrays and effervescent artefacts provide a bridge into the main break. Balmy atmospheres rise across the interlude, creating moments of anticipation as an eventual zenith is reached with a wave of drums spearheading a groovy finale.
Returning to the label and delivering the lone interpretation of 'Levitation' are Paul Angelo & Don Argento. Hailing from Cyprus, the much-loved duo have been regular contributors to Movement Recordings, having appeared on the label nine times since making their debut in 2017. Often walking the line between melodic house & techno and progressive house, Paul and Don have become fixtures in Beatport's sales charts in recent years, with a string of impressive outings via Clubsonica Records Timeless Moment, UV and Movement affiliate Astral Records. Now, presenting their first remix of 2022, Paul and Don return to Movement with a powerful rendition of 'Levitation'. Taking inspiration from the original while adopting a techno state of mind, Paul and Don layer chunky bass stabs and arcane electronics atop compact beats and flickering percussive arrangements. Mysterious and driving throughout, it's a heady amalgamation of sound which makes for an energetic yet atmospheric journey, elegantly melting down to ethereal phrasing across a one-minute interlude, before a mystical final act puts a cap on this creative gem.
Continuing with a mosaic of sounds and infinite emotional spectrums is 'Passion'. From warm and mystical beginnings, the piece pulsates with hip swinging grooves and rolling rhythmic structures. Emerging chord stabs elevate mood across an early break, effortlessly shifting energy into a high-octane second movement, before breaking off into a spirited synth phrasing and glowing pads for a purring finale.
Rounding out the release are the elegant sounds of 'Illusionism'. Beginning with punchy beats and a warm chugging groove, its rhythmic energy grows quickly. Waves of percussion and vocal overlays elevate mood across the first act, as processed piano stabs continue to emerge during the main break, eventually giving way to a trance inducing arp for a glowing conclusion. A fitting end to a sensational artist showcase from Supacooks, an artist duo who make an inspired return to Movement Recordings with 'Levitation'.