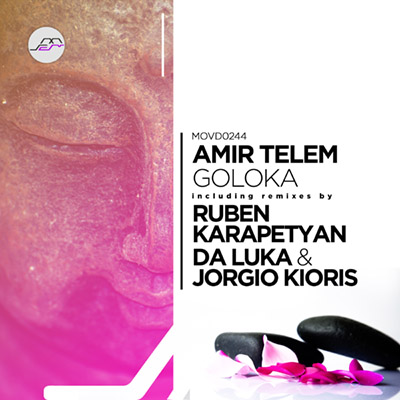 Artist: Amir Telem
Title: Goloka / Valor
Remixers: Ruben Karapetyan, Da Luka & Jorgio Kioris
Release Date: 3 June 2022
Supported by Sasha, Solomun, Adriatique, Armin van Buuren, Nick Warren, Guy Gerber, Dubfire, Agoria, Anja Schneider, Joris Voorn, BLOND:ISH, Paul Van Dyk, Pete Tong, Danny Tenaglia DJ, John 00 Fleming, Paul Oakenfold, Above & Beyond, Paul Thomas, ao. 
Rounding out the month of May, Tash's Movement Recordings welcomes Amir Telem back to the label for his debut EP. Famed for releases via EIN2, Harabe, Kindisch and Nick Warren's The Soundgarden, Israeli artist Amir Telem has continued to delight fans with his unique take on organic house and melodic house and techno. His spiritual creations have also found a place on Movement Recordings, with two appearances on the label's popular 'Technical Progress' series. Now returning to Movement for his first and much anticipated EP, Amir unveils 'Goloka', alongside remixes from Ruben Karapetyan and Da Luka and Jorgio Kioris.
Drawing on a variety of cross-cultural concepts, the EP begins with 'Goloka'. On a backbone of warm beats comes mounds of perfectly contoured bass and a lively percussive cadence. Fluid and buoyant in equal measure, vibrant arps and ethno-vocals descend over the framework, as soulful instrumentation and timely effects unite in a perfect sonic marriage. The narrative shifts as emotive chord changes initiate the main break, with buzzing sonics and prayer-like phrasing gently rising towards a spirited finale. The companion piece 'Valor' continues the astral techno vibes of its predecessor. As the journey commences, striking chord stabs and mystical vocals sit atop a machine gun style groove and rolling rhythms. Percolating effects and timely drops elevate mood as the first act evolves, perfectly setting the stage for a devilish break. Furthering its dramatic appeal, the centrepiece melts down to warm bass swells and diabolical electronics, expertly elevating towards an understated drop, as the groove gallops towards a stirring final movement
Providing the lone interpretation of 'Goloka' is Ruben Karapetyan who returns to the label for his sixth appearance. Having reinvigorated his career following a ten-year hiatus, Armenian born, USA based artist Ruben Karapetyan has found favour amongst progressive music tastemakers and fans alike. His ethno-inspired take on the genre has flourished on Movement Recordings, with six originals and one remix released across the last eighteen months. Now, following standout offerings via Balkan Connection and Mango Alley, Ruben returns to Movement with a groovy take on 'Goloka'. Taking inspiration from the original, Ruben flexes his free-thinking muscles and crafts a version that lands comfortably between the surreal and exotic. Neatly manicured percussion and a smooth, hip-swinging groove set the course for layers of harmonic colour, which ultimately provides a bridge into the main break. Coming to full fruition across the centrepiece, tension rises through dancing arps, grandiose chord changes and drum driven drama, while never letting go of its tranquil vibration and smoothly pushing onwards to a glowing, vocal infused finale.
The release concludes with Da Luka and Jorgio Kioris providing the lone interpretation of 'Valor'. Hailing from Albania and Greece respectively, Da Luka and Jorgio have been occasional studio partners in recent years, recording singles and remixes for Droid9, Juicebox Music and Strange Town Recordings, perhaps none more well-received than a recent remix of fast rising artist Forty Cats. While Jorgio has been a regular contributor to Movement since making his first appearance in 2018, Da Luka makes his label debut here and together the duo deliver a standout interpretation of 'Valor'. Engaging from the outset, warm beats and rhythmic pulses converge for a sleek yet energetic groove, while crisp percussion and buzzing effects bring colour and texture to the framework. Building an engaging narrative, wavy arps emerge as the
first act evolves, bringing further swing to the groove, before segueing smoothly into the main break. A fragmented take on the lead theme highlights the centrepiece, delivering moments of tension and emotion, before a flurry of effects and a gentle rush of noise cues a powerful drop and exhilarating finale. A stunning remix from Da Luka and Jorgio Kioris, which rounds out a must-have EP from Amir Telem, a rising artist who has delivered some of his most engaging work to date here. Don't miss it.