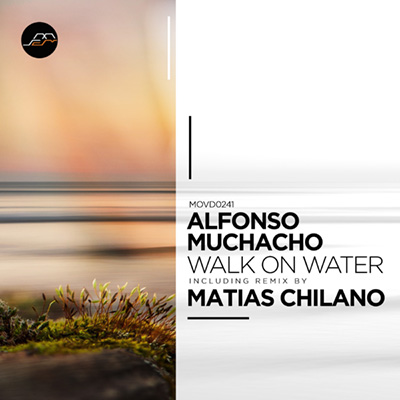 Artist: Alfonso Muchacho
Title: Walk On Water
Remixer: Matias Chilano
Release Date: 8 April 2022
Supported by: Above & Beyond, Adriatique, Agoria, &ME, Anja Schneider, Armin van Buuren, BEHROUZ, BLOND:ISH, Damian Lazarus, Danny Tenaglia DJ, Don Diablo, John Digweed, Joseph Capriati, Judge Jules, Maceo Plex, Markus Schulz, MATAN CASPI, Mind Against, Nick Warren, Paul Oakenfold, Paul Van Dyk, Pete Tong, ao
Movement Recordings opens the month of April by welcoming Alfonso Muchacho back to the label for a new EP. With a career that spans a decade, the UK artist found his footing early on, showcasing his music via long standing imprints such as Bonzai Records and Beatfreak Recordings, while progressive music tastemakers such as Hernan Cattaneo quickly took a liking to his dance floor minded creations. 2019 marked Alfonso's Movement Recordings debut in the form of the well-received 'Stranger Danger' EP. A bond with the label was nurtured going forward, with the London resident returning in 2020 with a powerful remix of Forniva's 'Tinkerbell'. Now as we enter 2022's second quarter, Alfonso returns to Movement with a three-track showcase 'Walk on Water', alongside a remix from Matias Chilano.
Following on from his 'Stranger Danger' EP Alfonso continues to amaze with the lead selection 'Walk on Water'. Following a DJ-friendly intro, the UK artist unleashes muscular beats, afro-infused drums and hypnotic arps, before hopeful pads carry the journey into an emotive break. Poignant pianos marry cascading effects as the interlude takes shape, eventually giving way to a wave of nostalgic vocal gates and a plucky lead theme, perfectly setting up a warm, reflective finale to send people home with a smile.
Returning to the label and providing the lone interpretation of 'Walk on Water' is Matias Chilano. As a regular on the label since making his debut in 2017, the Argentinean artist has delivered two EP's and three remixes across two calendar years. Now considered a veteran of the progressive music scene, Matias continues to choose his projects wisely with standout releases for Higher States, Meanwhile, Or Two Strangers, Proton Music and Sudbeat, while genre tastemakers Hernan Cattaneo, Nick Warren and Guy J remain steadfast supporters. Now presenting his first production of 2022, Matias returns to Movement with a groovy take on 'Walk on Water'. Electrically charged with perfectly manicured beats and sleek rhythmic structures, its progressive appeal beams brightly from the outset. Voluptuous bass lines and lively percussive arrangements marry striking stabs and gaseous sweeps as the first act evolves. Looking to further the emotional narrative, Matias makes great use of the mean theme and vocal gates during the break, letting them drift less pronounced amidst colourful effects and wispy atmospheres, before a thumping drop shifts energy into a key-changing finale.
Rounding out the release are 'Diamond Hands' and 'What Had To Be Done' which find Alfonso delivering two progressive minded stompers. The former delights with its robust design, wavy groove and clever cosmic storyboarding. Sitting as an ideal complement to its predecessor, buoyant arps, ghostly vocal phrasing and a forest of detailed percussion precedes an emotive break, one where trance-inducing arps and glowing swells take centerstage, as a timely drop ushers in a colourful, kaleidoscopic finale. Meanwhile, 'What Had To Be Done' finds Alfonso continuing with a similar design profile and crafting a powerful yet poignant journey to cap off the release in fine style. The UK artist marries tough beats and driving percussion with contoured grooves and hopeful pads for an impassioned romp of intergalactic proportions. Once again timely vocal elements add depth, space and emotion to the journey, while a break of creamy chord stabs precedes a finale that's sure to provide many memorable club moments in the coming months. It rounds out an excellent collection of music from Alfonso, who returns to Movement Recordings with some of his best work to date. Highly recommended.