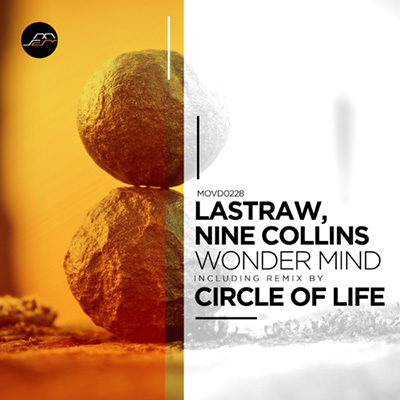 Artist: Lastraw & Nine Collins
Title: Wonder Mind
Remixer: Circle of Life
Release Date: 17 September 2021
Supported by:  Above & Beyond, Adriatique, Agoria, Âme, Armin van Buuren, Arude, Audiojack, Damian Lazarus, Dubfire, ELIF, John Digweed, Joris Voorn, Lonya, Maceo Plex, MATAN CASPI, Mind Against, Nic Fanciulli, Paul Anthonee, Paul Oakenfold, Pete Tong, Sasha Carassi, Solomun, Terry Grant, ao
The latest release from Tash's Movement Recordings finds Lastraw and Nine Collins returning to the label for their debut EP. The former has enjoyed a near decade long career as a producer, showcasing his techno sounds via Exotic Refreshment, Rhythmetic Records and Us and Them Records. Meanwhile, Nine Collins has enjoyed similar success as a DJ, playing some of Greece's trendiest venues such as Tokyo City Bar, Club Division and The Real Rock n Rolla. With a contribution to the Movement Recordings 'Technical Progress' Vol. 11 collection and the Her Kind' EP for label affiliate Astral Records both landing earlier this year, Lastraw and Nine Collins now return to Movement with Wonder Mind', alongside a remix from Circle of Life.
Beginning with Wonder Mind', Lastraw and Nine Collins deliver one of their best productions to date. Led by a warm rolling groove, pulsating rhythms and astral stabs, its ethereal nature captivates from the outset. Dark and spacious across the first act, its emotive sensibility rises as glowing pads blanket the electric groove as cosmic effects continue to provide dramatic moments. Stripping down into the main break a warmer sensibility rises as cascading sonics cluster amidst a haze of colour and harmony, eventually giving way to the energetic groove and astral lead for a stunning finale.
The second selection Galactica' finds the duo continuing the peak times vibes set by its predecessor. Its muscular groove is perfectly sculpted, driving forward through a forest of electric rhythms and lively percussion. Continuing to ride on an emotional plane the main break reveals a trance-like lead and wistful atmospherics, juxtaposed perfectly and effortlessly segueing into a finale that is both tense and exhilarating.
The duo's keen sense for the dance floor continues with the final selection Lost Generation'. Led by a warm yet punchy groove, it's charged rhythms and mystical atmospheres unite for a captivating storyboard. Driving and energetic, astral motifs and mounds of pulsating bass delight across the first act, as whimsical motifs add depth and space leading into the main break. Ethereal and cosmic throughout the interlude, it's flair for the dramatic continues to rise with a trail of sonic artefacts and cinematic pads sparking an understated apex and charged finale.
The release concludes with Circle of Life returning to the label and providing the lone interpretation of Lost Generation'. The Serbian artist made his label debut in 2019 with the well-received 'Black Light' EP. The next calendar year would see Circle of Life forge a strong bond with the label, delivering three originals and a remix across three excellent releases. Also finding a home on Beat Boutique, BeatFreak Recordings, Suara and Sudbeat Music, Circle of Life now returns to Movement Recordings with a deadly remix of Lost Generation'. Electrically charged with buoyant beats and a shapelier take on the groove, it's buzzing energy beams brightly from the outset. Combining robust rhythms with striking electronics and a dazzling array of drums makes for a hugely exhilarating first act. Segueing into emotive territory, the main break melts down to a glow of impassioned chord stabs and fluttery sonics, as frayed percussion and poignant key changes rise towards a groovy finale. A brilliant remix from Circle of Life which rounds out a superb debut EP for Lastraw and Nine Collins. Highly recommended.