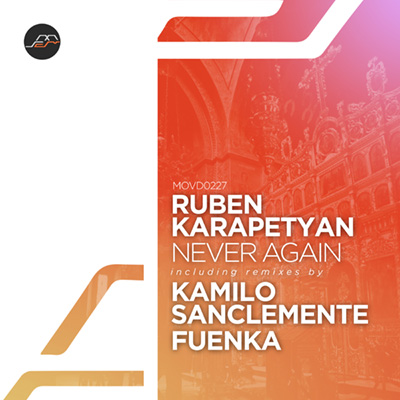 Artist: Ruben Karapetyan
Title: Never Again / Ambrosia
Remixer: Fuenka, Kamilo Sanclemente
Release Date: 03 September 2021
Supported by: Above & Beyond, Adriatique, Agoria, Ame, Armin Van Buuren, Solomun, Dubfire, Arude, Armen Miran, Edu Imbernon, Elif, Emi Galvan, John Digweed, Joris Voorn, Lonya, Maceo Plex, Mariano Mellino, Markus Schulz, Navar, Nick Muir, Paul Anthonee, Paul Oakenfold, Pete Tong, ao.
Continuing to build a bond with the label, Ruben Karapetyan returns to Movement Recordings for a new EP entitled Never Again'. The Armenia born; USA based artist made a triumphant return to electronic music in November of last year. Following a ten-year hiatus, Ruben's Movement debut Gignesthai' delighted progressive house fans with its combination of musicality and groove. Building on the success of his return, February of 2021 then saw Ruben unveil an equally well received follow-up Hathor', before branching out to Lowbit Records with the release of Karo'. Now following a powerful remix for LADS, Ruben returns to his comfortable home of Movement Recordings with a new artist EP, alongside remixes from Fuenka and Kamilo Sanclemente.
Continuing to operate at a creative peak, Ruben aims squarely for a main room dance floor with Never Again'. Anchored by a warm, rippling groove and layers of effervescent percussion, the energy is palpable from the outset. Ghostly vocal phrasing and sweeping stabs incite dynamic moments early on, as wispy effects and churning acid lines add depth and a rare ravey tension. Carrying into the main break, the vocal further saturates your senses, set against an emotive, key changing backdrop, elevating mood as a timely drum roll launches you into euphoria's top floor. The companion piece Ambrosia' follows suit with an equally impressive display of musicality and groove. Electric and energetic from the outset Ruben crafts a cross cultural progressive banger that's bound for dance floor destruction. Punchy beats, machine gun grooves and firing percussion lay the foundation for devilish stabs and ethnic vocals to work their magic. Senses heighten as the main break takes shape, with rolling percussion eventually revealing a perfect marriage of transcendent vocals and soulful instrumentation, which carry on wards into a spiritual finale.
The lone interpretation of Never Again' is provided by Fuenka who make their label debut. Based in London, Stuart Browne and Jimmy Lee make up the Fuenka production duo. Their unique take on progressive trance has found favour with some of the world's most prominent tastemakers in Above and Beyond, Aly and Fila and John OO Fleming; while landing them releases on FSOE, JOOF Recordings, Siona Records and UV. Now making their first appearance on Movement Recordings, the duo provides an inspired take on Never Again'. Remarkably fluid and undeniably modern, it's a mix that stays true to the electric themes from the original, while adding greater emotional depth along the journey. Reprocessed vocals sit as one of the primary themes, coming to full fruition during the main break and perfectly setting up a shapeshifting, musically inspired bridge which ultimately propels the track to a hands in the air finale.
Returning to the label and providing the lone interpretation of Ambrosia' is Kamilo Sanclemente. Long regarded as one of Colombia's foremost progressive house talents, the Cali resident has found a home on Anjunadeep, The Soundgarden and Replug Records, while earning continued support from Hernan Cattaneo, Nick Warren and Guy J. Having made his Movement Recordings debut in November of last year with Final Warning', Kamilo now returns to the label with a stunning remix of Ambrosia'. A perfect balance of warmth and drive provides the foundation for fluid rhythms, poignant hooks and reprocessed vocals. Trippier and more techno inspired than the original, a smooth transition into the main break relieves tension for moments of tonal warmth, as the beats drop, and astral aesthetics rise for an epic conclusion. An inspired remix from Kamilo once again which caps off a welcome return to Movement Recordings for Ruben Karapetyan.