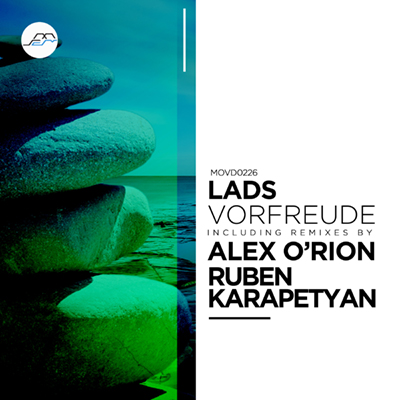 Artist: LADS
Title: Vorfreude
Remixer: Alex O'Rion, Ruben Karapetyan
Release Date: 06 August 2021
Supported by: Solomun, Mind Against, Maceo Plex, Adriatique, Agoria, Ame, Amine Edge, Armen Miran, Armin Van Buuren, Audio Jack, Behrouz, Blond:Ish, Damian Lazarus, Paul Oakenfold, Pete Tong, Markus Schulz, Above & Beyond, Danny Tenaglia, Dixon, Don Diablo, Dubfire, Edu Imbernon, Gai Barone, Hraach, John Digweed, Quivver, Joris Voorn, M.A.N.D.Y.,  Nic Fanciulli, Nick Muir, ao
Movement Recordings welcomes LADS to the label for their debut EP. Hailing from Germany and South Africa respectively, LADS is an amalgamation of two technical creatives. Luc Angenehm and Deep Suite combine their strengths to bring you a unique trademark sound filled with emotion and variety, underpinned with an unmistakable LADS groove. Conceptualized in 2017, the duo found success in relatively short order, choosing their projects wisely and building a discography with releases via Akbal Music, Lost & Found, Nie Wieder Schlafen and Sound Avenue. Now adding Movement Recordings to that esteemed list, LADS debut on the Greek imprint with Vorfreude', alongside remixes from Alex O'Rion and Ruben Karapetyan.
Never bound by conventional genres, LADS flex their borderless production chops on the lead selection Vorfreude'. Fuelled by rhythm and groove, it's muscular foundation and dark undertones set an ominous yet mystical vibe early. Creamy tones dance across the framework as the first act evolves, eventually giving way to an array of devilish effects and layers of perfectly manicured percussion. The second of two breaks melts down to an icy drawl, perfectly setting the stage for emerging arps to work their magic on wards through a powerful drop and heady finale. The companion piece Zeitgeist' is equally impressive with it's deeper drive and unpredictable tonality, the latter of which ultimately forms the backbone of this thrilling journey. Wispy effects, percussive flurries and timely modulation segue into the main break, shifting the narrative further into esoteric territory. Sitting comfortably in an ethereal yet thought provoking space, arpeggiated fragments percolate across the interlude, elevating tension before dropping out into a groovy final movement.
The lone interpretation of Vorfreude' is provided by Alex O'Rion who returns to the label.
As one of the Netherlands most highly regarded artists, the Nijkerk resident has found favour with progressive music tastemakers Hernan Cattaneo, Nick Warren, Guy J and Cid Inc, while finding a home on Anjunabeats, Replug, Sudbeat Music and The Soundgarden. Having made his label debut in July of last year with the chart topping Blue', Alex now returns to Movement with a groovy rendition of Vorfreude'. Taking a cue from the original while adding a progressive state of mind, the Dutch artist carves out a warm buoyant groove adorned with firing percussion and fresh rhythmic themes. Esoteric chord changes provide a unique emotional response across the first act, as bubbly arps and creamy effects create a bridge into the main break. Warm and compelling, the centrepiece is a sensory delight, with its poignant air, impassioned overlays and classy build ending in an understated crescendo and joyous re-entry.
Returning to the label and providing the lone interpretation of Zeitgeist' is Ruben Karapetyan. The Armenia born; USA based artist made a triumphant return to electronic music in November of last year. Following a ten-year hiatus Ruben's Movement debut Gignesthai' delighted progressive house fans with its combination of musicality and groove. Carrying momentum forward, 2021 has already seen Ruben deliver a second single for Movement, along with a project for Lowbit Records. Now returning to the Greek imprint for his first remix, Ruben delivers an inspired take on Zeitgeist'. Engaging from the outset, commanding beats and rippling pulses converge for a powerful foundation, while cross-cultural themes bring depth and texture. The main break furthers the narrative with its exotic leanings, creating a mystical air as a gentle rush of noise and drums sparks a pulsating drop and soulful finale. A gorgeous remix from Ruben which rounds out an excellent Movement Recording debut for LADS, a production duo who continue to delight both their fans and contemporaries with each successive outing.