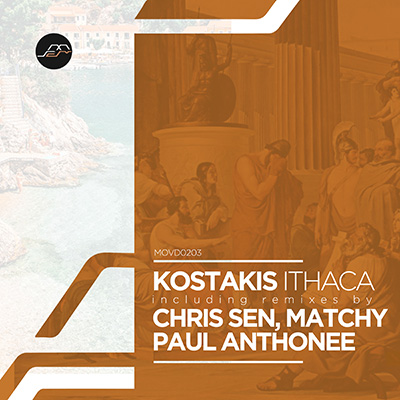 Artist: Kostakis
Title: Ithaca / Telos
Remixers: Matchy, Paul Anthonee, Chris Sen
Release Date: 20 July 2020
Supported by: John 00 Fleming, Cid Inc, Lonya, BLANCAh, Chicola, Paul Thomas, Binaryh, Paul Angelo & Don Argento, Graziano Raffa, Tim Penner, Mike Griego, Wurtz, Jorgio Kioris, ao..
The latest release from Tash's Movement Recordings welcomes Kostakis to the label for his debut EP. The South African artist first appeared in 2014 on Get Physical with the Beatport chart success 'iKalimba'. With the backing of Adriatique, Pete Tong and Solomun, Kostakis has since showcased his music via Chapter 24 Records and KATERMUKKE. Now landing on Movement Recordings, the Cape Town resident presents his 'Ithaca' EP, alongside remixes from Matchy, Paul Anthonee and Chris Sen.
Beginning with the title selection Kostakis explores a contemporary astral narrative. Tough beats and a chugging groove sit at the foundation while haunting pads and spacey arps descend over the framework. Fluid and cosmic in equal measure, rugged rhythms push momentum into a tense yet emotive break, before tasteful modulation peaks and striking stabs cue a powerful finale. The companion piece 'Ithaca' follows a similar sonic ethos and sits as a perfect complement to its predecessor. It's rolling groove is not only powerful but perfectly contoured, adorned with fiery percussion and ethereal effects. Astral fragments and pensive arps drift across the framework while dramatic overlays continue to build tension into the break. Cavernous yet striking, the centerpiece melts down to an effervescent sizzle, as a gentle rush sparks a driving final movement.
The lone interpretation of 'Telos' is provided by Matchy who makes his label debut. The Berlin based producer has been a creative force in the melodic house and techno scene. Releases on BeatFreak Recordings, KATERMUKKE, Stil Vor Talent and Suara highlight his discography while a unique DJ style has seen him continually delight crowds at Sisyphos and Katerblau. Drawing on the sensibilities of the original the Berlin resident leans closer to peak time territory, with a reworked groove and rolling rhythmic core. Vocal loops and piercing effects sit atop a layer of tonal tension, perfectly setting up a break that is both illuminating and emotive, before ultimately shifting energy into a fiery finale.
The first interpretation of 'Ithaca' is provided by Paul Anthonee who returns to the label for his seventh appearance. The Cyprus based artist last appeared on the Greek imprint in October of 2019 with a contribution to the label's ADE Sampler. Also laying claim to releases on Beatfreak Recordings, Parquet Recordings, Steyoyoke and Suara, Paul now returns to Movement Recordings with a stunning rendition of 'Ithaca'. Setting the piece in motion, a foundation of driving beats and percussive waves converge for a wall of momentous energy. Electric rhythms complement the rolling foundation, while effervescent arps steal the air at timely moments. The main break furthers the storyboard through tastefully twisted modulation before striking chord stabs usher in an exhilarating drop and thrilling final movement.
The release concludes with Chris Sen making his label debut and providing the second and final interpretation of 'Ithaca'. The South African artist lays claim to an impressive discography, highlighted by releases on Einmusika and Ein2. Now making a welcome debut on Movement Recordings the Pretoria resident provides a powerful rendition of 'Ithaca'. Fluid and groovy in equal measure, it's a mix that carries the sensibility of the original, while adding a tenser vibe through sizzling sonic artefacts and fragmented arps. Building beautifully into the break, drifting atmospheres carry tension across the centrepiece while clustered electronics and mind-bending effects unite for a cosmic crescendo. A rousing rendition from the South African artist, rounding out another must have offering from Tash's Movement Recordings.