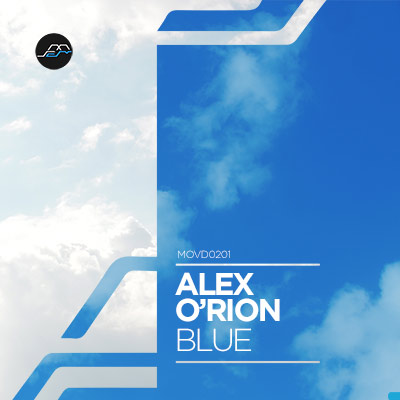 Artist: Alex O'Rion
Title: Blue EP 
Release Date: 6 July 2020
Supported by: Hernan Cattaneo, Nick Warren, Guy J, Cid Inc, Armen Miran, Jaytech, Mike Koglin, Oliver Weiter, Dmitry Molosh, Miss Melera, Alex Preda, Muui, Enamour, Subandrio, John Cosani, Mariano Mellino, Graziano Raffa, Praveen Achary, ao..
Tash's Movement Recordings continues a strong spring season by welcoming Alex O'Rion to the label for his debut EP. As one of the Netherlands most highly regarded and sought-after artists, the Nijkerk resident has found favour amongst progressive music tastemakers Hernan Cattaneo, Nick Warren and Guy J, while finding a home on Sudbeat Music, Hope Recordings and Cid inc's Replug Records. Now fresh off a collaborative EP with Antrim for Roger Martinez's Higher States, Alex makes his Movement Recordings debut with 'Blue'.
Sitting firmly amongst progressive music's elite, Alex continues this wave of momentum with three more memorable pieces, beginning with 'Stripped'. Fuelled by rhythm and groove; it's well sculpted foundation, driving percussion and unpredictable tonality form the backbone of this thrilling journey. Wispy effects and emerging atmospheres smoothly segue into the main break, shifting the narrative further into esoteric territory. Sitting comfortably in an ethereal yet thought provoking space, the lead motif rises amidst a rush of drums as the beats drop for a heady finale.
The second selection 'Fiend' follows suit with an equally impressive display of craftsmanship. Once again, a darker undertone runs through the piece, while a menacing low end, growling synths and steam-like sweeps create a foreboding air. An effervescent arp begins to bubble as the first act evolves, trailing into the break and elevating tension, before a rush of drums sparks a powerful drop.
Rounding out the release in style is the title selection 'Blue' which finds Alex showcasing his remarkable combination of rhythm and groove once again. Spacious and energetic, it's a creation built around rolling bass tones and haunting atmospheres. Harmonic phrases and otherworldly effects converge as the first act unfolds, while ghostly overlays shift energy into the break. Surreal and tense in equal measure, timely modulation adds drama across the one-minute interlude, ultimately reaching a swirling crescendo as the beats fade to prominence, perfectly setting up a striking final movement. A powerful creation from Alex, capping off an inspired Movement Recordings debut for the rapidly rising Dutch artist.