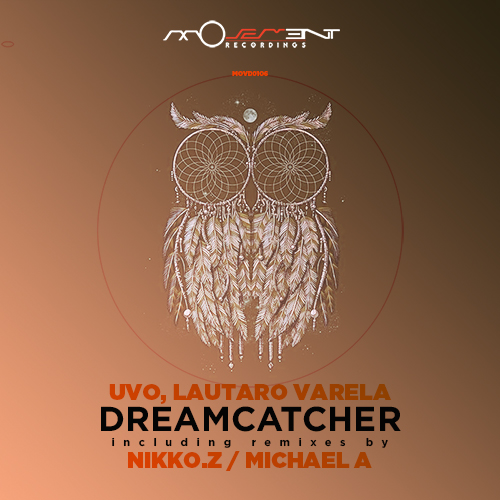 Artist(s): Uvo, Lautaro Varela
Track(s): Dreamcatcher
Remixer(s): Nikko.Z, Michael A
Release Date: 22/06/2015 
https://classic.beatport.com/release/dreamcatcher/1551700
Supported by: Hernan Cattaneo, Dubfire, Guy J, Nick Warren, Guy Mantzur, Darin Epsilon, Kasey Taylor, Marcelo Vasami, Nick Varon, Stas Drive, Blusoul, Magnetic Brothers, Matan Caspi, Dale Middleton, Sonic Union, BP & more .. !!

The 106th release on Tash's Movement Recordings finds the label showcasing a brand new collaboration from Lautaro Varela and Uvo. Hailing from Argentina and Mexico respectively Lautaro and Uvo have enjoyed much success in their solo careers. Collectively their music has been featured on Balkan Connection, Dopamine Music and Perspectives Digital. Now we see the talented duo with their first ever collaboration entitled 'Dreamcatcher' which includes remixes from Michael A and Nikko.Z. 
Both Lautaro and Uvo have been noted for their fresh and club friendly approach to progressive house, and the meshing of their respective sounds has resulted in something extra special on 'Dreamcatcher'. Warm, organic designs and a funky, percussive framework lays down an amazing foundation while dreamy textures encompass the surroundings. As the pulsating groove builds momentum, open fills and wispy atmospheres carry the track into the break. Here a spoken word storyboard further mystifies the senses before an array of glassy keys brings the groove back for a rousing finish. Wonderful production from Lautaro and Uvo.
The first interpretation of 'Dreamcatcher' is provided by Nikko.Z who is returning to Movement Recordings for his eleventh appearance. The Greek producer and Dopamine Music label boss was one of Movement's core artists during the label's early years and has also appeared on Hernan Cattaneo's Sudbeat Music and Sound Avenue. Nikko's fresh off a remix of Marcelo Vasami's 'Destiny' (courtesy of Dopamine Music) and has delivered another stunning production here. It's techno inspired approach is a wonderful complement to the original and the mystical motifs are incredibly captivating. A spiralling atmospheric theme highlights a huge third act while the mysterious vocal elements continue to dazzle the senses during an exhilarating finale. Nikko has also supplied a dub version which will be perfect for those less vocally inclined DJs. Two huge remixes!
The second and final interpretation of 'Dreamcatcher' is provided by Michael A who is making his fourth appearance on Movement Recordings. The Belarus based producer and Genesis Music label boss has been enjoying the best year of his career thus far. 'Indonesia' released courtesy of Luke Porter's Temporum Music has been a highlight and was also played and charted by Guy J. For his 'Dreamcatcher' interpretation Michael has reworked the track into a chugging monster that's got a real nose for the dance floor. A funky lead theme takes shape as the breakdown approaches and continues to evolve following the brief interlude. Michael's electric designs continue through the third act along with tripped out vocal gates which add a wonderful human element. Amazing remix from Michael who continues to be at the top of his game. Top notch release from Movement Recordings. Don't miss it.