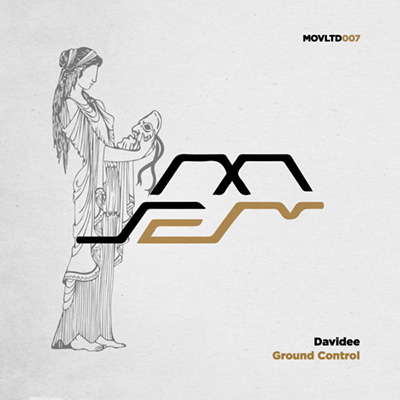 Artist: Davidee
Title: Ground Control EP
Release Date: 27 August 2021
The latest release on Tash's Movement Limited welcomes DAVIDEE to the label for his debut EP. Based on the French Island of Corsica, David Halewa aka DAVIDEE has been crafting his brand of melodic house and techno for the last several years. His contemporary club sound has found a home on Three Hands Records, Night Light Company and Oniryzm, while also finding favour with a broad selection of the underground's tastemakers. Also, an established DJ in his home city of Ajaccio, David programs music for the region's top venues on a weekly basis. Now following an EP for Old School Music, DAVIDEE makes his first appearance on Movement Limited with a three-track showcase entitled Ground Control'.
Getting the EP underway with Full Moksha', DAVIDEE marries rolling grooves with cross-cultural concepts. Pronounced and warm, an enticing selection of free form motifs elevates mood through shimmering arrays and effervescent artefacts. The main break adds further depth with processed vocals bringing a mystical mood and perfectly shifting energy into a groovy drop and effects laden finale. Its mysterious spirit is compelling and ultimately sets the course for the remainder of the release.
Continuing with a mosaic of sounds it is the quirky and cool Brahman Cafe' which lands next. From warm and mystical beginnings, the piece pulsates with striking instrumentation as timely pianos play off melodic fragments and rich effects. Astral sonics highlight a poignant centrepiece, perfectly teasing the senses, before getting washed away as the groove resets for a mind-bending finale.
Rounding out the release are the driving, late night vibes of Ashes of Stars'. Immersive and captivating throughout, it's electrifying energy and striking sounds are designed for maximum dancefloor impact. As the narrative evolves a perfect balance of cosmic melodies and pulsating rhythms is reached, foreshadowing a break that is both tense and poignant, as the thunderous groove drops for a transcendent finale. It caps off a hugely successful Movement Limited debut from DAVIDEE, who has presented his best work to date here. Don't miss it