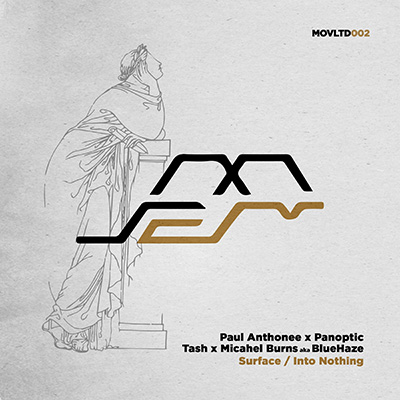 Artist: Michael Burns aka Bluehaze, Panoptic
Title: Surface / Into Nothing
Remixer: Tash, Paul Anthonee
Release Date: 12 April 2021
Supported by Paul Oakenfold, D-Nox & Beckers, Max Graham, Paul Thomas, BOg, Citizen Kain, BLANCAh, Olivier Weiter, Darin Epsilon, Lonya, Steve Parry DJ, Definition, Erly Tepshi, Modeplex, Sean & Dee, Arude, OIBAF & WALLEN, Paul Angelo & Don Argento, Future of Matter, Voices Of Valley, Baunder, Chris Cargo, W&DY, ao
Continuing a strong beginning for the new imprint, Movement Ltd revitalizes two progressive music classics from Michael Burns. Recording under the alias' of Blue Haze and Panoptic, UK artist Michael Burns earned recognition shortly after his initial productions were released in 2002. As a favourite of progressive music tastemakers Hernan Cattaneo, Nick Warren and Sander Kleinenberg, Michael landed standout releases on Deep Records, Little Mountain and Saw Recordings through the mid-2000s. With that several of the genre's timeless classics were born, none more memorable than perhaps 'Surface' and 'Into Nothing'. Now breathing new life into these seminal creations, Movement Ltd presents new revisions from Paul Anthonee and Tash for the Spring of 2021.


Movement Recordings mainstay and Astral Records AandR Paul Anthonee is up first with a powerful rendition of 'Surface'. Originally released in 2003 on Minimal Records and played by Sasha and Digweed, Hernan Cattaneo, Nick Warren, Above and Beyond, Armin Van Buuren, Markus Schulz and Jody Wisternoff, the track's place in progressive music history is firmly etched. Well known for his astral techno sounds, Paul Anthonee now presents those memorable melodies in an entirely different context. Dark, compelling and geared for peak time play, the Cypriote's punchy beats, electric rhythms and crunchy design lays the foundation for Michael's reflective melody to delight across an eight-minute cosmic journey.
Completing the release Movement Recordings label boss Tash reimagines the Bill Hamel 'Last In 9 Vocal' version of Blue Haze 'Into Nothing'. Originally released in 2004 on Satoshi Tomie's SAW Recordings, the project signified a shift in sound from the label's darker, tribal roots. Storied US artist and Sunkissed Records founder Bill Hamel had a hand in a multitude of memorable releases throughout progressive music's first movement. In addition to being a favourite of Sasha and Digweed, Bill was a highly regarded mix engineer, working with Seal, U2, Nelly Furtatdo, Marilyn Manson, Gwen Stefani and Pharrel, Rihanna, Madonna, Britney Spears, Depeche Mode, New Order, Prince and Justin Timberlake. Earning two Grammy nominations in the process, Bill always remained tied to the electronic underground in some regard as well, most recently releasing as Fantum on Above and Beyond's Anjunabeats imprint, before tragically passing away in 2018. Looking to honour Bill's memory, Movement Recording label boss Tash provides a fresh take of Bill's highly regarded take on 'Into Nothing'. With the remix being regarded by some as one of progressive music's greatest tracks, Tash stays true to its musical spirit and overall groove, resulting in a version that sits comfortably in both current and nostalgic spaces. Highly emotional, it rounds out an excellent second release for Movement Ltd, a label who has laid the ground work for an incredible year to come.