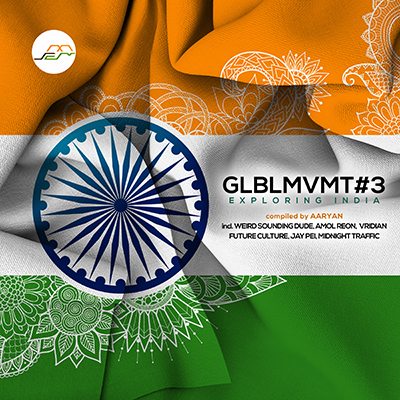 Artist: Various Artists 
Title: GLBLMVMT03 / Exploring India
Release Date: 17 August 2020
Supported by: Hernan Cattaneo , Jerome Isma-Ae, Mike Koglin, Anthony Pappa, Max Graham, Chicola, Dave Dresden (Gabriel & Dresden) , Mariano Mellino, Antrim, DJ Jaap Ligthart , Paul Anthonee, Ewan Rill, Jorgio Kioris , DJ Ruby, ao.
The latest release on Tash's Movement Recordings finds the label showcasing the third installment of its 'GLBLMVMT' series. These region-specific compilations were first unveiled in 2018 with Federico Monachesi curating the progressive hotbed of Argentina. 2019 then saw Movement invite Paul Angelo and Don Argento to explore the up and coming Cyprus scene. Now travelling to India for 2020, Movement Recordings have called upon Aaryan to compile the third edition. Featured on the collection are (in order of appearance): Weird Sounding Dude, Midnight Traffic, Aaryan, Amol Reon, Jay Rei, Vridian and Future Culture.
Long one of India's most intriguing artists, Weird Sounding Dude leads the collection off in fine fashion. The Bangalore resident lays claim to an impressive discography, highlighted by releases on Juicebox Music, If You Wait, Kindisch, Plattenbank and Strange Town Recordings. Now landing on Tash's Movement Recordings, Weird Sounding Dude presents the buoyant, groovy and playfully melodic 'Twenty-One'.
Next up and also making his label debut is Midnight Traffic. The Hyderabad resident has found a comfortable home on Qilla Records where he has appeared six times, along with releases on Brian Cid's Endangered, Juicebox Music and Mango Alley. Now following a contribution to MNL's 'Seasons | Summer' collection, Midnight Traffic brings his groovy, hypnotic sound to Movement with 'A Drift In Time'.
Collection curator Aaryan is next up following releases on URSL, Magician on Duty, Disco Halal and Soundteller Records. Known for sitting in the creative space between melodic techno and progressive house, Aaryan's creations have earned critical acclaim making him an in-demand remixer for Luman and also being involved with Mønje and Dowden. Now debuting on Movement Recordings, Aaryan shows a deeper side of his studio repertoire with 'What We Unsaid'.
Next we travel to the famed land of Goa where Amol Reon resides. Widely regarded for his production versatility, the Groove9 Recordings boss has become a favourite of a broad range of DJs from Darin Epsilon to Nicole Moudaber. Now following a remix for Vlada D'Shake and Balkan Connection, Amol presents his first original production of the year with the pulsating lines and emotive swells of 'Mask Movement'.
Jay Pei is a New Delhi based producer and DJ who has pioneered his own unique sound, enthralling audiences with it across India since breaking through in 2018. On the production front Jay's creations have been inspiring his fans and contemporaries since 2014, having amassed a discography highlighted by releases on 3rd Avenue, Dear Deer Black and Qilla Records, the latter of which released his lone 2020 offering 'Ocean of Stars'. Now making a welcome debut on Movement Recordings, Jay presents the crunchy grooves and astral melodies of 'Twell'.
The collection's sixth selection welcomes Vir RC aka Vridian who also makes his label debut. Based out of New Delhi, as a DJ Vridian has travelled all over India, sharing the stage with an impressive list of international talents such as Djuma Soundsystem, Dave Seaman, Isolee, Lost Desert, Stimming and Telepopmusik. A rising production career has seen the Indian artist amass an impressive discography, highlighted by releases on Dream Culture, Magician On Duty, Manjumasi and Nie Wieder Schlafen. Now bringing his unique sound to Movement, Vridian presents the deep, enchanting, vocal infused cut 'No Secrets'.
Rounding out the release is Dj/Producer Daniel Rajan aka Future Culture. Since making his debut in April of 2018 with an EP on Zephyr Music, Daniel has built a tidy discography with subsequent releases on BQ Recordings and Stellar Fountain's Astrowave. Now stepping up for the most anticipated release of his career, Future Culture delivers the collection's closer, a tough, arp driven progressive techno crossover track entitled 'Starseeds'. Perfectly constructed for a modern-day dance floor, it rounds the collection out on a strong note and shows what a rich pool of electronic music talent India has.