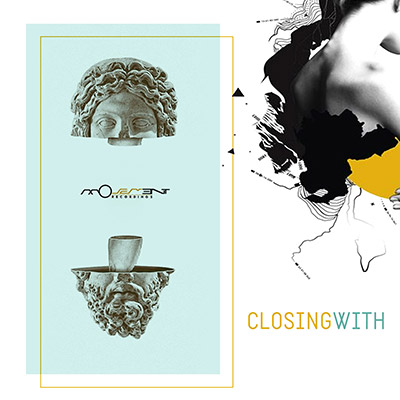 Artist: Various Artists
Title: Closing With
Featured: Nick Varon, Ewan Rill & K Loveski, After Burn, Federico Monachesi, Hans Seance, Stergios Sigma
Release Date: 21 December 2017
Supported by: Nick Warren, Gabriel Ananda, Marc DePulse, Be Svendsen, Betoko, Namito, Marc Poppcke, Lonya, Chris Fortier, BOg. Aaryon, Tripswitch, Baunder, Aly & Fila, Danito & Athina, Simos Tagias, Kohra, Simply City, Roger Martinez, Marcelo Vasami, Gai Barone, Danny Lloyd, Black 8. Mariano Mellino, ao
The latest release on Tash's Movement Recordings finds the label showcasing the newest installment in its Various Artists exclusives series. Now a staple in the imprints discography the collection's feature a wide assortment of talent from fresh and unknown to some of the tried and tested names in progressive house. The label's latest entitled 'Closing With' does exactly that, showcasing new music from (in order of appearance) Nick Varon, Ewan Rill and Loveski, Hans Seance, Federico Monachesi, After Burn and Stergios Sigma.
The collection begins with the deep, techno inspired piece 'Ma Di Tau' from Greek artist Nick Varon. The Hernan Cattaneo favourite dazzles with tough beats, chunky grooves and an astral ambience that becomes irresistible hypnotic over the seven minute journey. Next up Ewan Rill and Loveski continue on a funky, dance floor minded plane with 'Illuminao'. Mystical atmospheres, indistinct vocal gates and a romping groove set the piece in motion before a lovely melodic apex ensues. The collection's third selection finds Hans Seance returning to the label with 'The Purge'. The Indian artist has delivered a deep, pulsating progressive cut with delicate arps and distinctive stabs. Smooth chord changes during the main break shift the narrative from meditative to emotive before the kick drops for a smooth finale.
At the halfway point we have Federico Monachesi making his Movement Recordings debut. The Argentinean artist presents his latest studio creation 'Chrysocolla' which shifts the collection closer to peak time territory with its driving groove, firing percussion and wavering, atmospheric resonance. Next up is one half of the Some Little Things duo Leandro Moyano, who presents the latest from his new After Burn moniker. 'Night Dance' proves to be a standout with its organic percussion, dusty motifs and soulful melodies. Definitely one for a summer day time event. The release concludes with Movement Recordings artist Stergios Sigma returning for his fourth appearance following a contribution to the label's 'Technical Progress' Vol. 7 compilation. The Greek artist's latest studio creation 'Island of fire' comes in dark and haunting with a real nose for the dance floor. Dramatic and daring, it's an eight minute journey through brooding tones, ghostly vocals and spine tingling arps. No doubt the best production of Stergios' career and thus a perfect way to cap off another excellent exclusives collection from Movement Recordings.