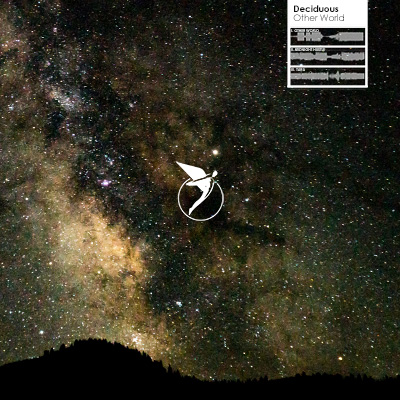 Artist: Deciduous
Title: Other World
Release Date: 18 June 2021
Supported by: John Digweed, Solomun, Adriatique, Mind Against, Pete Tong, Âme, Agoria, Dubfire, Joris Voorn, Damian Lazarus, Fideles, Øostil, VNTM Live, HeÎk, Paul Oakenfold, John 00 Fleming, ELIF, Armen Miran, Audiojack, Paul Anthonee, Cevin Fisher, Nicolas Masseyeff, Emiliano Demarco, Nohak, ao
The latest release from Astral Records welcomes Deciduous to the label for their debut EP. Based in Ireland, the Deciduous production duo was conceptualized in 2017 with a mission to bring their synth-laden progressive tracks to the dance floor. Two years spent perfecting their craft eventually led to 2019 releases via 3rd Avenue, Awen Records and Parquet Recordings. 2020 then saw similar successes with the Dublin residents showcasing their music on Eternity Sounds and Running Clouds. Now following an EP on Vagabond Recordings to begin 2021, Deciduous step up to Astral Records with a three-track showcase entitled 'Other World'.

Through distinctive design and spacey soundscapes Deciduous have carved out their own unique place in the underground. 'Other World' showcases this wonderfully with it's mysterious and deeply compelling architecture. Devilish sonics built around a tough, cavernous groove and striking percussion make for a heady seven-minute journey. An expansive break sits at the heart of composition, melting down to a dramatic array of sonic artifacts, before a sizzling build ushers in an arp driven finale.

The second selection 'Midnight Hustle' comes in equally mesmerizing with its robust framework, psychedelic structures and alien-like design immediately grabbing your attention. Tense yet exhilarating, its emotional range is vast, accentuated beautifully with arcane hooks and astral trails, eventually leading to a poignant break and fierce final act.

Rounding out the release is 'Tara' which finds Deciduous exploring the deeper realms of cosmic techno. Backed by a punchy groove, it's bounce and drive quickly become infectious. Billowing stabs and trailing effects offset each other nicely, as romping rhythms and clattering percussion build momentum across the first act. Icy overlays descend at opportune moments, adding additional depth as layers of sonic artefacts saturate your senses during a dramatic break and charged final movement. It caps off a superb Astral Records debut for Deciduous, who are most certainly an artist duo operating at their creative peak.