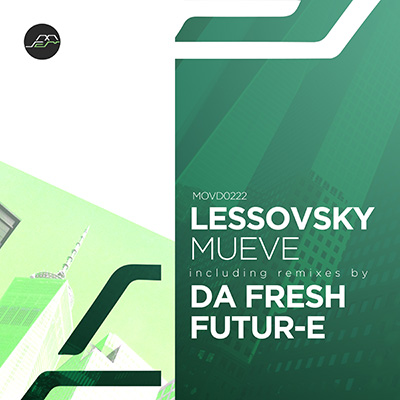 Artist: Lessovsky
Title: Mueve
Remixer: Da Fresh, Futur-E
Release Date: 11 June 2021
Supported by: John Digweed, Joris Voorn, Damian Lazarus, Âme, Dixon, Adriatique, Agoria, &ME, BEHROUZ, Solomun (Official), Pete Tong, KOLLEKTIV TURMSTRASSE, M.A.N.D.Y., ELIF, Sasha Carassi, Ferry Corsten, Solarstone., Giuseppe Ottaviani, Markus Schulz, Above & Beyond, Gai Barone, Paul Anthonee, Lonya, Arude, Audiojack, Robert Owens, Nic Fanciulli, Jickow, Julian Nates, ao
The latest release from Tash's Movement Recordings welcomes Lessovsky to the label for his debut EP 'Mueve'. Hailing from the Ukraine, Oleg Lisovskiy aka Lessovsky has been a fixture of the electronic music underground for the better part of a decade. With a sound that sits in the creative space between progressive house and melodic house and techno, the Kharkov resident has found a home on several cutting-edge record labels, most notably EIN2, Lost Diaries and Seven Villas. With the focus primarily on his organic house alias Somalee in recent years, Oleg now returns to his beloved Lessovsky project for his Movement Recordings debut alongside remixes from Da Fresh and Futur-E.
With three originals to choose from it is the title selection which leads the release off. Dark and mysterious from the outset it's punchy low end and rolling rhythms provide momentous drive, while striking effects and cross-cultural motifs fill in the framework. Exotic percussion and distinctive stabs delight across the first act, bringing a lively feel to the journey, before the second of two breaks resets the framework for a groovy finale. Its contemporary flair leads perfectly into the more esoteric 'Toujours'. Nasally acids lines and arcane vocal processing are beautifully complemented with kaleidoscopic arps and sweeping chords, the latter of which gives way to further quirkiness across a spirited final movement. Aptly titled, 'Guitarmore' rounds out the three originals with a machine gun style groove, a maze of finely tuned percussion. Bleepy tonal themes, evolving vocal edits and a buzzing guitar keep the narrative incredibly fresh, with the end result being one of Lessovsky's most heady creations to date.
Making his label debut and providing the lone interpretation of 'Mueve' is Da Fresh. As a producer and DJ for over two decades the French artist has compiled an impressive resume. Releases for 1605, Suara and Toolroom sit prominently in his discography, while more recent outings for Area Verde, Freegrant Music and Perspectives Digital have continued his evolution within the world of melodic house and techno. Now making a welcome debut on Movement Recordings, the Lyon resident dials in a deadly remix of 'Mueve'. Setting the piece in motion, a foundation of driving beats and percussive waves converge for a wall of momentous energy. Electric rhythms complement the rolling foundation, while quirky effects and gated vocals work their magic across the stereo field. The main break furthers the storyboard with full vocal phrases adding a transcendent vibe, perfectly setting up an astral synth display across a cosmic finale.
Rounding out the release and providing the lone interpretation of 'Toujuors' is Futur-E who returns to the label for his third appearance. As the Movement Recordings label manager, the Greek artist first appeared on the imprint in March of 2020 with a contribution to the 'Technical Progress, Vol.10' collection. February of this year then saw the Eleusis resident return with his first EP entitled 'Angel'. Backed by remixes from Mononoid and Jonathan Reyes, the five-track offering earned play and support from electronic music's premiere tastemakers, as well as enjoying a run in Beatport's sales charts. Also calling Mango Alley and MNL home, Futur-E now returns to Movement with a powerful rendition of 'Toujours'. Fluid and groovy in equal measure, it's a mix that carries the sensibility of the original, while adding a spacier vibe through timely effects and a fragmented, reprocessed take on the vocal elements. Building beautifully into the break, effervescent acid lines eventually give way to a tasteful tonal theme which spearheads a liquid-like finale. A classy rendition from Futur-E, which rounds out a stunning Movement Recordings debut for Lessovsky. Don't miss it.