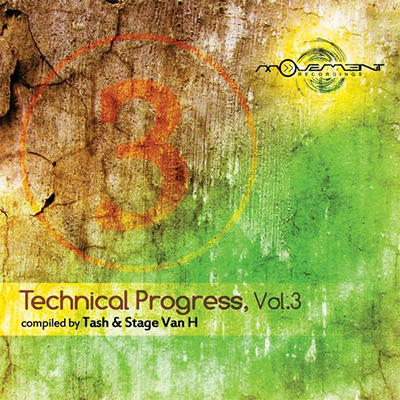 Artist(s): Various Artists (compiled by Tash)
Title: Technical Progress, volume 3 (Unmixed Compilation)
Release Date: 11/11/2013
Movement Recordings started their 'Technical Progress' compilation series in April of 2010. Now two volumes in the series is one of the best showcases of cutting edge progressive house and techno that the world has to offer. Tash and Stage Van H are proud to present Volume 3 in the series which includes brand new original productions from: Omar El Gamal, Genius Spark, Erdi Irmak, Uvo and Hugo Ibarra, Stergios, Tim Penner, Kasper Koman, Tash and Stage Van H and WandDY and Peter Wagner.


Omar El Gamal has been one of the most talked about producers over the first three quarters of 2013. He continues to be a firm favourite of Hernan Cattaneo and his contribution here entitled 'New One' continues his strong ways. The liquid like lines and ethereal melodic themes are some of Omar's best to work to date and with a tight framework it's going to be magic on all the contemporary dance floors out there.
The second track on the collection sees the debut of Genius Spark to the label. Mexican producer Hugo Ibarra aka Genius Spark is one of Mexico's top up and coming talents; his productions have already graced the Stripped Recordings, System and Sounds of Earth labels. His contribution to 'Technical Progress' is entitled 'Lucky Flashback' and it finds Hugo at his absolute best. The tough framework is rock solid and with an array of cool rhythms and unique melancholic themes 'Lucky Flashback' looks set to be one of Hugo's best works to date.
Turkish producer Erdi Irmak returns to Movement for his third overall appearance. Erdi continues to be one of his country's top progressive house exports and with a discography that includes appearances on Dopamine, Sangria and Particles the future continues to look very bright. Erdi has provided his latest studio production 'Freedom Of Speech' to Technical Progress' and it once again showcases the Turkish producers studio expertise. It's a light and airy sounding production that comes with a tight tech house groove, fresh sounding vocal stabs and a swirling atmospheric backdrop that is delightfully intoxicating.

The fourth selection here sees two of Mexico's brightest new stars Uvo and Hugo Ibarra teaming up for 'Fragments'. The results of this studio collaboration have been quite fruitful as 'Fragments' is an enchanting sounding masterpiece of a track. The drummy framework is loaded with groove and the celestial melancholia which surrounds the piece is utterly beautiful.
Track number five on the collection comes from long time Movement recordings artist Stergios. The Greek producer has now appeared on the label eight times and his contribution here entitled 'High Hopes' is a very worthy addition. Stergios' brand of hypnotic tech house always sounds timeless and fresh. 'High Hopes' is no different with a smooth rolling groove, soft vocal stabs and a cool hypnotic nature that drive the piece to an exhilarating climax.
Next up is one of the hottest Canadian producers of the moment Tim Penner. This is Tim's first ppearance on Movement and it follows a superb remix on FutureForm Music released recently. Tim's contribution to Technical Progress is the incredibly groovy 'Reborn' and it sees the Canadian producer at his absolute best. Sultry vocal samples, futuristic sound models and a flair for constant progression all combine for what results in one of Tim's best and most dance floor worthy creations to date.

For the seventh selection here the hugely up and coming Kasper Koman makes his Movement Recordings debut. The Dutch producer has delivered 'All Ein' which is a deep tech house gem that's loaded with effervescent character. The funky groove is well complemented with an array of bubbly synths, unique vocal elements and subtle melodic themes that keep your attention locked.
The two gentlemen responsible for compiling this collection Tash and Stage Van H are next and it sees them teaming up with W&DY for a brand new studio cut. Wendy Wustlich aka WandDY and Stage have worked together many times in the past but with the addition of Tash the trio have crafted the funky tech house bomb 'Cookie's Cue'. The sultry groove makes it ideal backroom material and the subtle atmospheric ambience that slowly encompasses the framework gives way for some gorgeous chord changes that highlight the piece wonderfully. 
Closing the collection out is Peter Wagner who is returning to Movement for his second appearance. The Portuguese producers 'Fat Dope Shit' EP released on the label in March of this year was a cool blend of progressive and tech house sensibilities that absolutely rocked. His newest studio creation 'Pressure' included here closes the package out with a bang. The driving techy beats, pulsating bass lines and spooky atmospherics should be huge at peak time while the unique melancholic themes provide just the right emotional touch