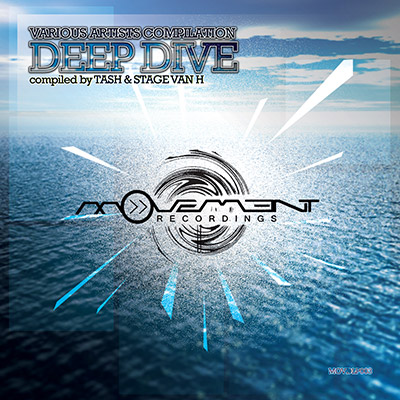 Artist(s): Various Artists (compiled by Tash & Stage Va H)
Title: Deep Dive (Unmixed Compilation)
Release Date: 02/04/2012
The third instalment of the Movement Recordings compilation series entitled 'Deep Dive' marks the conclusion of an awesome summer season for the label. Tash and Stage Van H worked tirelessly selecting fresh material from the likes of Darin Epsilon, AlterImage, Sonic Union, Wade Bennett, Ad Brown, Pete McCarthey, Nikko Z, and an assortment of other cutting edge progressive house producers. The compilation leads off with Russia's favourite electronic music duo the Magnetic Brothers. Arthur and Anton have come up with a wonderfully funky and playfully melodic cut entitled 'Pretty Evening' that just exudes their genre defying production prowess. 'Relax Your Soul' comes from NYC faves AlterImage and with its dark, throbbing, late night vibe it's looks like they've got another big one on their hands. Balkan Connection label boss Nicholas Van Orton's 'Copenhagen Interpretation' brings a fun and light-hearted melodic feel to 'Deep Dive' that is most welcome.
As the compilation moves forward Lithuanian producer Weepee follows on from his recent Beatport chart success with 'Overlay' (also on Movement) with the equally impressive 'Idealiai'. The man behind the Lowbit Records imprint Sonic Union and fellow UK resident Wade Bennett team up for the wonderfully spacey, melodic gem 'Skylara'. Soundtribe label boss Chris Drifter and fellow Hungarian producer MB Project deliver the tough, punchy and wickedly driving '2nd Avenue'. One of the USA's most in demand DJ's and Perspectives Digital front man Darin Epsilon provides the decidedly new school 'Bahamut' which is bursting with fresh techno sensibilities. Greek producer Pete McCarthey who is fresh off having his winning remix released on Cocoon provides a peaktime atmospheric stormer in the form of 'Sevah'. Famed for his productions on Black Hole and Silk Royal UK producer Ad Brown provides a perfectly fresh club cut in the form of 'Sum Of Us' that once again showcases Ad's keen sense of a main room club floor. One of Russia's most prolific producers Gosh continues on his run of strong melodic club cuts with his new track 'Record'. Movement resident and label A&R Stage Van H teams up with Dutch producer Wendy Wustlich aka W&DY for the ultra-cool and refreshingly old school 'She Rides'. Lastly the compilation is closed out by the piano laden, beachside vibes of Nikko Z's 'Moments In Ibiza', the perfect soundtrack to put the finishing touches on another monumental summer party season for Movement Recordings.