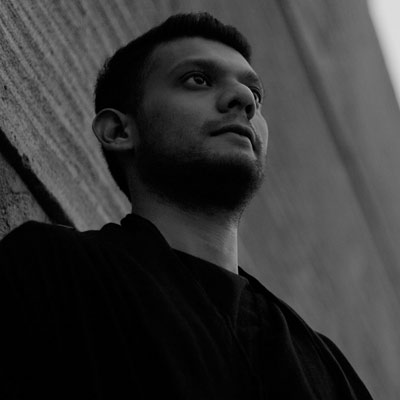 Either you evolve or remain stagnant in your space – this underlying hymn is the foremost vigour that sets apart Midnight Traffic from the rest, making him create a niche soundscape distinctly identifiable with his name.
The evolutional journey from an ardent listener jostling through genres eventually ported him behind the console as a DJ. Thanks to his trait of innate inquisitiveness about gears and the whole science behind the production, it was just a matter of time, he evolved from an artist 'playing' music to 'crafting the making of music'. Having strongly inclined to the vast ocean of electronic music, Midnight Traffic found his footing into the realm of sounds that reflects his immaculate art of expression through drivingly deep elements and cerebral appeal.
As Midnight Traffic forayed into production, his EP and single releases in some of the well-established labels like Qilla, Endangered, Click, Movement Recordings and Juicebox Music carries the imprint of a 'Thinking Producer'. Never a prisoner of his own craft, Midnight Traffic has been consistently pushing the boundaries transcending into an unexplored sphere that aptly articulates his art into the soundscape.
Over the years, Midnight Traffic has not only built himself as a strong producer, but he has also hit the spotlight as an impeccable DJ. Having earned spots to play alongside pioneers like Sasha, global maestro Hernan Cattaneo, and some of the widely revered artists from various top-notch labels, something that is incredibly commendable is his productions getting constant playtime across some of the most popular radio shows besides making it to the playlist of niche gigs worldwide. His recent stint at Mixmag show in Mumbai (India) featuring for his label showcase is constantly picking playtime on various platforms.
On a side note – Midnight Traffic is fondly called 'Rishi' which means someone who is enlightened. He is fond of cats and finds peace in disassembling and putting things back together. Seems like a varied source of his enlightenment.