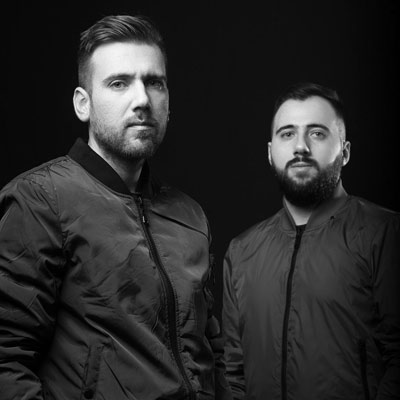 With appearences in Thessaloniki's best local venues, Greek duo based in Cyprus, Harris & John Tzigkounakis, have been making noticeable waves in the underground music scene under their moniker, Highjacks.
Their name has become a trademark for an impressive and every time different event with their Deep Tech & Techno sets spiced with Progressive sounds.
With residencies at venues like Tokyo City Bar and The Real Rock N Rolla, one of the city's well-known venues, along with Cockney Lama (Robsoul, I'm A House Gangster), they presented some of the hottest and most talented names from all over Greece. Also, they were part and head liners, along with Lastraw, of the famous Bear Project Festival, based in Naousa, Greece, for two years in a row. The last three years, they have had their Radio Show "Nightshift", streaming via Athens Must Radio, for presenting their new releases and the most hype tunes from the worldwide music scene.
In time of their almost five years under their alias, Highjacks had gigs in many different cities and venues all over Greece (Naousa, Veroia, Ksanthi, Larissa, Patra, Athens and more.) but also abroad in the famous Cue Istiklal, and recently at KiKi, and Soho House Istanbul and in many other Istanbul well-known underground venues. With Dj sets next to artists like Chaim, Detlef, Echonomist, Junior Pappa and top notch releases, followed by the support of the biggest tastemakers around the globe like Darin Epsilon, Guy Mantzur, D-Formation, Paul Hazendok, Dale Middleton, Mariano Mellino and many others. Beatport charted and selected their latest releases into Biggest Bassline : Progressive House Charts at no.5 and they have reached no.36 in top 100 progressive house in the last three months. In reward for their hard work all this time, they were the featured 'Artist of the Week' on Frisky Radio in February 2019 with a powerful two hours mixed set, their tracks have been charted and supported on Beatport and also on Proton Radio & Frisky Radio shows by Darin Epsilon & Martin Roth (Perspectives Digital), Dale Middleton (Subsidence, Tarnished Tracks), Tash (Movement Recordings), Mariano Mellino (Alcoholics), Paul Hazendok (Manual Music, Variable Frequencies), Paul Anthonee (Suara, Beatfreak), Mark Salner (Universal Love Tribe) and many other artists, there is no doubt that 2018 was their breakthrough year.
In addition, Highjacks's signings to labels such as Tarnished Tracks, Manual Music (NL), Beat Boutique Records, Piko Music, King Street Sounds/ Street King, Bullfinch, Witty Tunes, Majestic Family Records, Midnight Lab, Upfilter Records, Clap7, Soleid, Superordinate , Miami Underground, UM Records, and more, have quickly established them in the game and their music has also been supported by some of the biggest artists/tastemakers in the business.
Dedicated to their work, their music is depicted by distinctive and powerful bass lines, melodies and emotions, following their unique Deep and Techno genre. You can find many of Highjacks's releases in some of the most respected and major underground electronic labels.