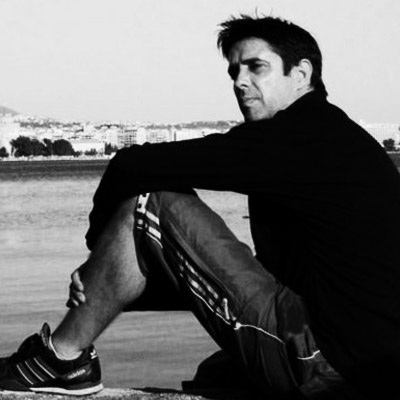 Born as a musician and raised as an artist Jorgo aka Stage Van H counts 28 years of DJ experience! From the first vinyl spinned till nowadays, the flame and true love for music is still alive and burning..! Stage has been DJing since November '85, playing at major clubs, events and festivals in Netherlands, United Kingdom, Greece & the islands, and other Eastern European countries, spinning alongside to players such as Tiesto (playing together since '89 @ Lendte, Breda NL), John Digweed, Hernan Cattaneo, David Morales, Frankie Knuckles, Remy, Andy Moor, Gabriel & Dresden, Leama, Fabio, Grooverider, ao.. George was torn apart in 2 countries, although born & raised in Netherlands, the warm & solid climat of Greece & roots deep inside couldnt keep him away for long!
After a great DJ / Musical Background in Greece, being one of the beginners of the dance music genres' birth in the country, he found DJ Movement Production in early 2005, alongside his young greek studio & booth-mate, Tash. Since then, DJM Productions have been responsible for some very successful events incl. international guests such as Andy Moor, Anthony Pappa, Gabriel & Dresden, Kasey Taylor, Eelke Kleijn, Cjay, Parham & Dominic Plaza, Leama, Gpal, Nikola Gala, Dousk, Vsag, ao.. As a Musician, Stage has been playing the piano since his he was 7, but there was no EDM Genres at that time! Later on, he started working on his own productions (like 'Trip To Paradise' released in Playground CD Compilation '02) after 3 years of living in the UK & attending on various seminars & classes of Sound & Audio Engineering (S.A.E.).
In '06, after teaming up in the studio with youngster Tash - after moving back in Greece - they released their debut project releases on labels like SOG Records (ch), Presslab Limited (it), Plusquam (de) and Underground Lessons (gr) to name a few, releasing their debut album 'Movement' launching at the same time their own electronic music record-label entitled Movement Recordings! Nowadays, Stage is living in Amsterdam with numerous hits in the greek field performing on gigs..!