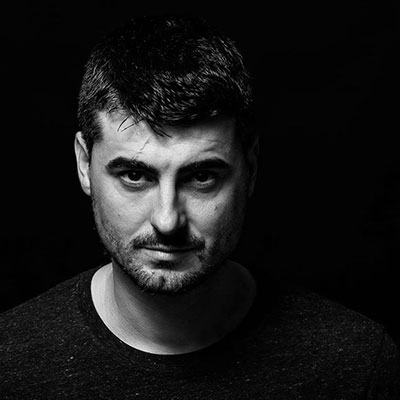 Try to put together innovation, proper bass, and hypnotic melodies. Go from the darkness to a sunny festival. Let yourself go, and dance like no one is looking. Ask to your friends, yeah, Integral Bread is playing.
Integral Bread doesn´t follow the mass, he just make them dance. The definition of his music depends of the hears listening. You can find elements from techno, house, deep, progressive.. with the most pure electronica spine. Eclectic style making sense, in a timeless harmony.
Nacho Vicente Vargas (Integral Bread), from Spain, started his career in the electronic music production in 1995. During all these years he has been working with a wide range of music kinds but with a very personal and unique style during his natural evolution. In 2000 he joined Joaquin Gemio and they formed "Bread and Butter", with a great success due to their releases and live acts in the main Spanish festivals.
His solo career is supported by numerous references and remixes edited in different labels, in addition to the support of artists and specialized media. He is currently manager of the Univack Records label. His latest album, "We Die To Live" released in May 2016, has garnered outstanding attention from specialist media around the globe, as well as reaching the Beatport top 10 release, and being a finalist at the Vicious Music Awards 2016 for Best Album, in addition to the nomination for Best Artist Tech-House / Deep House.
His live show, awarded the Best Live award at the "EEE Awards", has received significant recognition from the public and specialized critics, performing live even on such important media as Radio 3 National Radio of Spain (twice). His Live has toured festivals like Klubbers Day, Electrosonic Burgos, Live Dance festival, Jameos Festival, Summer Festival, Hebben Live, ContemPopranea, etc, by numerous clubs in the national territory, and countries like Belgium, Austria and UK, sharing poster and stage with Artists like Pet Shop Boys, Orbital, Richie Hawtin, Sven Väth, Jeff Mills, Carl Craig, Kevin Saunderson, Marco Carola, Guy Gerber, Henry Saiz, Dj Rush, Umek, Robert Hood, Oscar Mulero, Paco Osuna, Cristian Varela, Christian Smith, LadyTron, Radio Slave, Freestylers, Asian Dub Foundation, Oxia, Misstress Barbara, The Hacker, Paul Ritch, Popof, Uto Karem, Sideral, D.Wachman, Adam Freeland, Samuel L. Sesion, Reeko, Gaetano Parisio, Marc Houle, Sebastian Leger, Krafty Kuts, and a long etcetera.
Integral Bread has the power of bringing you back to one of our basic and oldest instinct, dancing, this time surrounded by lacers lights instead of around a bonfire, innate way of having fun and feeling in harmony.