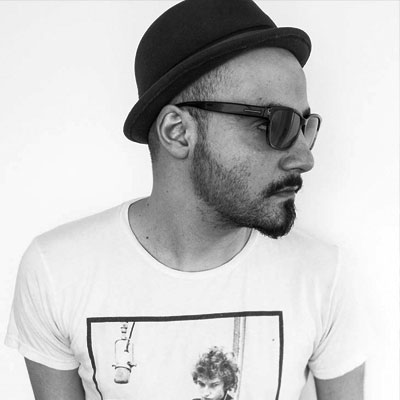 Through his formative years as a child, Navid Mehr grew up listening to his father's vinyl collection. A self-professed 'metal-head' throughout his teens, he found himself latching on to the grunge scene during its moment of popularity.
The 90's set the stage for Navid's desire to find music he could relate to, find the music he was desperately searching for within the varied genres he had been exposed to as a child. This quest led him along into his 20's while he was studying IT and economics in York University in Toronto. During this transitionary time, Navid held on even tighter to his savior, music, and the answers he was looking for seemed to elude him no longer. In the mid-2000s, Navid had started his first project with fellow musician, entitled Beat Syndrome.
After their first release, the duo continued to work together for nearly a decade until Navid decided to flex his muscles as a solo artist in 2013. In his work, his passion translates and Navid approaches music from a spiritual place, a most internal whisper that he acknowledges and brings to fruition with his productions. A nature-lover, Navid spends a lot of his time camping or in the outdoors as a bit of a nomad and through these experiences, collects energy and inspiration from his surroundings and expresses it in his music for others to latch onto. And that they do!
With a packed repertoire of successful releases on label such as Sudbeat, Proton, Sound Avenue and Dopamine to name a few and the support of big names like Hernan Cattaneo, Nick Warren, Sharam and Nicole Moudaber matched with a variety of Top 100 chart positions on Beatport,  Navid's work continues to be played, admired and recognized by, not only the industry he works in but also his over growing fan base. Currently finding himself in another 'Nomadic Experience', Navid is collecting new energy and experiences to translate into new works within the upcoming year. With the amount of growth he has seen in just the past 3 years alone, 2017 promises more of the same as Navid Mehr digs his roots deeper in the Underground Scene as a producer, artist and global citizen.
For Bookings & Artist Inquiries:

Movement Bookings
This email address is being protected from spambots. You need JavaScript enabled to view it.