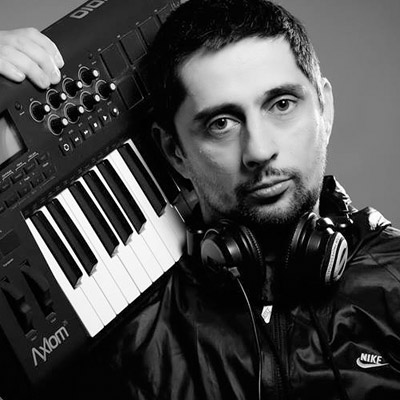 Podgorica based,one of the first Montenegro ambasadors in quality production,around all styles without limits,but expert in deep/progressive house grooves,Ognjen Vukovic is man under project AudioStorm.
From his early childhood in Podgorica, Montenegro,Ognjen was fascinated by music. He enjoyed its energy and beauty and it was that which made him decide to follow a career in electronic music. He quickly realised that he had to absorb as many different genres of music as possible and became obsessed with bands like Pink Floyd, David Bovie, Joy Division,The Doors,The Cure, Phil Collins, Sting, Simply Red, Depeche Mode, Stone Roses,Pet Shop Boys, Kraftwerk, Vangelis, Jean Mishel Jarre, Mike Oldfield to name but a few.

By the beginning of the 90s, as grunge rock took over as the popular contemporary sound, AudioStorm turned his attention towards the pioneering electronic bands of the burgeoning underground dance scene and in particular the music that was coming from Goa, India. Psy Trance as it became known was for AudioStorm a diverse, forward thinking, adventurous mix of eastern and western cultures and new and older sounds. A melting pot of possibilities. It was listening to this music which inspired him to begin to explore more progressive sounds of DJs Hernan Cattaneo, Nick Warren, Circulation, Deep Dish, Silicone Soul, Darren Emerson, John Digweed, Sasha, Pete Tong, Danny Howels,Satoshie Thomy, Sander Kleinenberg, Dave Seaman,Swen Wath,Swayzak,The Timewriter, Terry Lee Brown Jr, Terry Francis, Anthony Pappa and many other artists.

As his interest in electronic music crew, AudioStorm began to write his own tracks which are supported by many of his childhood heroes and contemporaries. He now has releases on multiple labels from mighty Particles and now legendary System and Baroque through to Balkan Connection,Mystique Music and Polytechnic,among many others. He also has a diverse range of releases from Progressive House and Techno to Chill-Out/Lounge and Indie Dance. This clearly indicates a talented producer who does not let genre boundaries cloud his musical vision!

His fields of interest are produced by several genres ranging from chill-out/lounge, ambient through deep and progressive house, and work great remixes of hits.

One of the many powerfull influence factors is of course ALBUMS that move them to the limits of modern electronic sound and surely the MAJOR IMPACTS !