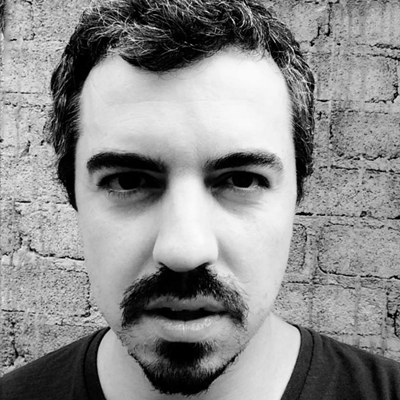 Kosmas, first a Dj, one who feels the need to spread good vibes around, one who knows exactly how to fit the tracks in a row, to create a proper journey for the listener & then a music producer, who always tries to take sound to the next level, making music for the soul, smooth to the ear and able to put the listener in a 'state'. Now combine these two and you have someone you can trust, one willing enough to spend days and weeks to build a set full of beautiful music and one who spends his life producing tracks, to make them fit into these sets for that same, special purpose.
It all started like this:
Hitting the microphone on the bed to produce low-frequency sounds, recording from one cassette to the other multiple times to create a 'rain' effect from the added tape hiss, turning the hi-fi Stereo's REC input to 11 (Spinal Tap-style) to recreate distortion on his cheap Yamaha keyboard, led him to attend music lessons at the age of 8. Kosmas started building his small but intimate vinyl collection, when he was 13. This was the next step of inspiration for that youngster without moustache yet, to go out and find more records that fit into his collection. Taking the bus once a month to reach the closest city with record stores, and spending time with the ones who used to run the proper stores by that time, talking about Chicago house & Detroit techno, willing to share knowledge with that enthusiastic skinny kid.
Electronic music was always a joy of the finest calibre, the collection went on growing with more different stuff, like Aphex Twin, Chemical Brothers, Dj Shadow. A little bit of everything, actually.. It was a bit earlier, mid-90s, when he started his own 'parties' around town and a great little underground scene was born. The feeling of sharing fresh sounds was indescribable.. But it was only until 2002, when he started producing properly his own tracks, that Kosmas left his town to play in other parts of Greece at first and all around the world a bit later, when his tracks started getting signed by the labels and filling the charts of the best Djs of the genre. It was still house music, but melodies were all over the place, dreamy and hypnotic, but with a twist and a pumping groove.
The present finds him being a universal citizen, feeling local wherever he goes, spreading the same vibe he used to when he was a youngster, with the same enthusiasm, but this time with a conscious mind, full of experience and knowledge. Not joining the dark forces, but instead, walking in a parallel universe with them.
For Bookings & Artist Inquiries:

Movement Bookings
This email address is being protected from spambots. You need JavaScript enabled to view it.