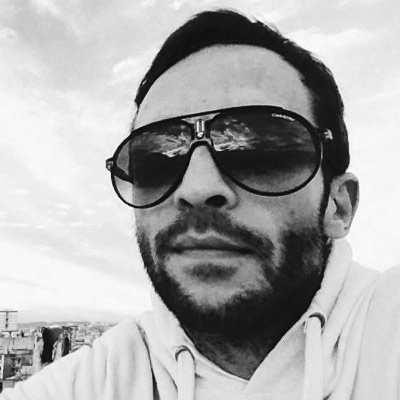 Toni Manga was born & raised in Munich, Germany. His trip into electronic music starts in late '90s, getting involved in DJing professionally in underground events & clubs of Germany and specializing in techno sounds & beats since then…
The new millennium finds Toni Manga moving in Thessaloniki, Greece, where his studio-base is located up to today, playing in major events & festivals and the main clubs around the country. His skills & techniques award him the 1st place at 'City In The Mix' National DJ Competition, held at the most famous club in Greece, Decadence Club (Thessaloniki). Following dj mixes getting aired on various radios, interviews floating on national tv network & Press.
Since 2006, Toni Manga started working on Producing his own beats and playing in several underground parties in Greece after he moved. A couple of years after, around '09 Toni Manga had his first release on Movement Recordings, with a continuous rising with more releases following on label like Eitan Carmi's Fatali Music (IL), Spherax Records (SL), Michael & Levan's Mistique Music (GE), Plusquam (DE) , AlterImage (USA), Iboga Records (DK), Tribal Vision Records (CZ) and more…In 2010, Toni Manga can be seen and heard all over the country of Greece spinning next on top notch artists incl. Popof, D-Nox, Max Cooper, Beckers, Spektre, Andrea Bertolini, Lank, James Monro, Atmos, Khainz, Lützenkirchen, Magitman, Cosmic Tone, Rinkadink, Athom Device, Sesto Sento, Emok, Son Kite (Miniloque), Leif Hatfield, Christian Cambas, Stage Van H, Guy Mantzur, Pierre, Guy J, Hernan Cattaneo, Niko Z, Vibrasphere, Cid Inc, Ace Ventura, Dousk, Dj Zombi of Weekend Heroes, Lish, M.a.n.d.y, Tiefschwarz, Nick Warren and Jhon Degweed to name a few, and a year after that he still keeps on track, working on new beats and pieces so during the same year Toni Manga delivers some massive remixes for artists incl. Cid Inc, Hypnotic Duo, Junkdna, Andrea Bertolini & Ad Brown, alongside his infamous 'Plan B' released in 'Cold Beats' compilation of Movement Recordings.
Toni Manga has been traveling around Netherlands, Austria, Germany, and all over Greece performing in major events & festivals including Amsterdam Dance Event -ADE- (NL), and clubs such as Café D'Anvers (Antwerp BE), Nightzone (Zillertale AT), and many more... At 2012 came up, a hot Original tunes such as 'Night Rider' picked by Weekend Heroes for their 'Best Of Our Sets' vol.7 compilation on the legendary Iboga Records (dk), and 'Hocus Pocus' (also produced with Tash) being dropped on Movement, and numerous gigs all over Greece and countries Europe & having the first intercontinental Movement Tour scheduled. Since 2013 Toni Manga launched Active Soul Group and kept playing in major events next to important international Artists. Nowadays, Toni keeps get busy with gigs in Greece & Europe, while at the same time saving time for studio, working on some fresh techno & tech house gems!
So keep an eye on !!!